Local product
Brightspace
Local product
What Is Brightspace?
From the kindergarten classroom, to college campuses, to global corporations, Brightspace helps create inspired and engaging learning for all. Our powerful and flexible learning management platform
Read more
helps drive better learning outcomes by offering every learner a highly personalized, digital experience.
Read less
Who Uses Brightspace?
Brightspace is used by learners in higher education, K12, and the enterprise sector, including the Fortune 1000.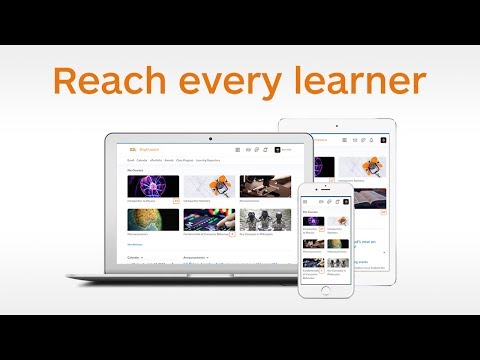 Not sure about Brightspace? Compare with a popular alternative
Brightspace
Local product
Alternatives to Brightspace
Catherine
CEO in US
Verified LinkedIn User
Graphic Design Software, Self Employed
Used the Software for: 1-5 months
Love Bright space
Pros:
As a user it's very easy to learn how to navigate.
Cons:
There's nothing I dislike about Bright space
Medical Practice, 10,000+ Employees
Used the Software for: 6-12 months
One of the Best Softwares to Use as a Student
Pros:
What I liked most was the simple and effective organization. It was a software that was definitely created in mind to set students up to succeed. Firstly, the way the Chapters, sections, topics, and individual assignments were organized on the side was something that was consistent for each of the subjects I was studying. Then on the top bar, you were able to click on pages that would essentially "filter" the types of class material. You could see all the assessments in one place, all the assignments in one place, and your grades. On top of that, every single thing was linked back to the corresponding item. For example, if you couldn't recall what "assignment 2" was when looking at it in the gradebook, you were able to click it and redirect it to the original post. There was also notifications for when assignments were open and reminders for when exams and homework was due. As someone who has used canvas, blackboard, google classrooms, and a few other softwares for school, these functions were not common. There were also times where it would be extremely hard and confusing to navigate. However I never ran into that issue with D2L.
Cons:
It is hard to find any qualms about D2L Brightspace, there is nothing negative I've noticed the entire time I have been using the software.
Nathan
Principal in Canada
E-Learning, 51-200 Employees
Used the Software for: 2+ years
Alternatives Considered:
Aesthetically Pleasing and Easy to Use
Comments: We have been able to boost productivity consistency, and quality using Brightspace. It is easier to build out courses and map them in a simple hierarchy. Course templating allows us to ensure consistency when building copies of courses or new versions.
Brightspace has also allowed us to automate a number of functions we would normally need to perform in terms of student management, which has freed up personnel for other tasks but also removed human error from the equation.
Pros:
Brightspace is very intuitive; users can jump into the LMS and figure out what they need to do with little to no instructions. I like the power it gives admins to build in automation and customize how students work through the course. This is done via intelligent agents and release conditions. Brightspace just looks great. Is the most aesthetically pleasing LMS on the market as far as I have seen.
Cons:
The platform seems more geared toward traditional schooling systems rather than asynchronous models at times. For example, there is no easy way for students to add their own due dates to assessments; they can only be added for the entire course, which does not work when students are all pacing differently. Brightspace for Parents is also not as strong as I would have expected. There seems to be limited features and out parents are just not really interested in using it.
Nathan
Lead Instructional Designer in US
Primary/Secondary Education
Used the Software for: 2+ years
Source: SoftwareAdvice
Admin Experience with Brightspace
Pros:
As an administrator at my previous employer, I appreciated the flexibility to change pretty much anything that I wanted in the system. The ability to change what things were called in the system were very nice. In the most recent version that I had used, Brightspace had taken steps to make some changes on how system settings were handled to update the interface. Previously, the interface of the DOME was one of the most painful parts of the system. I also appreciated the service desk that Brightspace has built up over the last three years. When I began using Brightspace, items could get lost very easily with the technical teams, but after some difficult issues, Brightspace has turned around a great deal, and updates to tickets were timely and applicable for a while before I stopped using it.
Cons:
I found that there were little things that Brightspace did not do well. For instance, workflows between different tools were very different based on the time that the original tool was designed. This led to user frustration and an increase of time training users on the common functions of the LMS. I also found that Brightspace tended to minimize small updates or fixes in order to focus on major updates. While major updates are important to survive in the field, sometimes known bugs would remain for years without a fix.
Used the Software for: 6-12 months
As a student, Brightspace/D2L gave me the opportunity to take classes I couldn't fit in my schedule!
Comments: I have gained the ability to take some higher-level courses online which are necessary for college admissions/success, which I could not fit into my senior year schedule due to being a busy student!
Pros:
I love that I can take these classes outside of school. I am currently taking four classes on Brightspace (Sociology, Psychology, Spanish III Semesters 1 & 2) because I could not fit them into my schedule for my senior year. In addition, each class comes with a "90 Day Plan" in the course materials, which helps keep me on track; I try to do more per day than what is on the plan, as I'm trying to get most of the workload finished before school starts again. This brings me to my next point: Working at my own speed! As evidenced by my taking four classes over the summer, I am an advanced student who is serious about her education. Brightspace gives students the flexibility of working at their own speed. Although a "90 Day Plan" is offered as a guideline, there are no daily requirements set by the software itself. As a high schooler, some days I'm just busy, plain and simple. I don't have to worry about fulfilling a daily requirement with Brightspace. Again, the flexibility of completing online courses at my own pace is invaluable to a busy student like myself.
Cons:
There's not much to complain about with this software. However, there is one issue I face on the daily with Brightspace. When working on a lesson, every now and again there will be a little box that pops up warning the user that if the session exceeds 30 minutes of inactivity, they will be logged out and will have to log back in again. I understand that it is set to do this for security reasons, but it is incredibly annoying when I'm taking notes on the lesson (which takes a decent amount of time) to have to be wary of the pop up appearing.