TeamViewer
What Is TeamViewer?
As a leading global technology company, TeamViewer offers a secure remote connectivity platform to access, control, manage, monitor, and support any device — across platforms — from anywhere. With
Read more
more than 600,000 customers, TeamViewer is free for private, non-commercial use and has been installed on more than 2.5 billion devices. TeamViewer continuously innovates in the fields of Remote Connectivity, Augmented Reality, Internet of Things, and Digital Customer Engagement.
Read less
Who Uses TeamViewer?
Remote desktop, remote support, IT management, web monitoring, remote work and web conferencing, Remote access, Augmented reality support, digitization of work processes, IoT, and Industry 4.0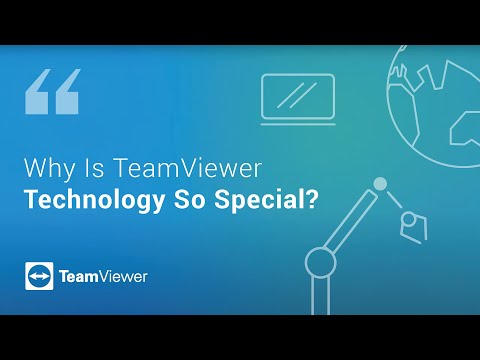 Not sure about TeamViewer? Compare with a popular alternative
Alternatives to TeamViewer
Verified Reviewer
IT in United Arab Emirates
Verified LinkedIn User
Professional Training & Coaching, 11-50 Employees
Used the Software for: 2+ years
Alternatives Considered:
TeamViewer, my long time assistant
Comments: Teamviewer is a great application that most IT professional around the world depend on in delivering their services. I have been a user since 2010 and I don't see any indication that I will move away from this for the next couple of years.
Pros:
Teamviewer over the years have improved a lot. New features are being added regularly. I like the fact that the quality of their application hasn't degraded and with all the new similar applications out there, Teamviewer still stands out as the best
Cons:
I don't like when they changed their licensing to subscription based. I paid for version 11 and 12 and I am still using these because I don't need a subscription based licensing. Feature-wise, I don't have anything to dislike.
TeamViewer Response
2 months ago
Hi TeamViewer user, Thank you for contributing your honest feedback and experience with TeamViewer! It is our pleasure to have you on board and support us for such a long time at TeamViewer! We are so happy to hear that you like the eye-appealing interface design of TeamViewer too! Hope you enjoy the journey with TeamViewer as always and Have a beautiful day! Best, Ying/TeamViewer
Yurie Katri
DevOps Engineer in Spain
Verified LinkedIn User
Telecommunications, 10,000+ Employees
Used the Software for: 1+ year
Alternatives Considered:
A helpful tool for working remotely
Comments: Before the presentation, I had to scramble to operate the terminal on the top floor of the office. It was not a security-restricted area and there was no concept of using a remote desktop connection to do the work, so we had to go there personally. However, with the spread of remote work thanks to Corona and the introduction of this tool, it became possible to work with a remote desktop connection from home or in the office, eliminating the hassle of walking. In addition, it is now possible to work from home, so I believe that work efficiency has improved significantly.
Pros:
It is very convenient because you can operate the remote connection destination terminal through a remote desktop connection between offices or in a homework environment without the hassle of detailed configurations. It is also possible to send files, so it is useful when you want to transfer a local file to a remote connection destination. It also supports smartphone apps, so in an emergency, you can access and respond from your smartphone, which is excellent.
Cons:
Sometimes it is strangely cumbersome, and operations such as clicking are disabled and a restart is required, which is inconvenient. Also, as it is not a cheap service in terms of cost, I think if there are several additional contract plans, the barriers to using the paid version will be reduced.
TeamViewer Response
2 months ago
Hi Yurie, Thank you so much for reviewing TeamViewer with the positive feedback! We are happy that you are enjoying TeamViewer's performance, cross-platform flexibility, and reliability. We are glad to know TeamViewer is a powerful remote access tool for you and even for your home office! You are invited to join TeamViewer Community (https://community.teamviewer.com) for any troubleshooting questions about TeamViewer. We hope you enjoy using TeamViewer all the time! See you in TeamViewer Community! Wish you a great day and all the best. Best, Ying/TeamViewer
Nicolas
IT Administrator in France
Information Technology & Services, 2-10 Employees
Used the Software for: 2+ years
A good software widely deployed around the world and easy to use
Pros:
Remote support is good with this software as this is the main feature : diferent sort of app for final user (Quick Support = only 1 app, - no install, Normal : installation needed - more easy to teconnect on this computer later, Host : computer available remotely without user in front of it)
Cons:
Some issue found during use of this remote software : file sharing stay and say never finish when close (but finish was OK), chat option is a rather poorly thought-out gadget (small window on remote computer and no foreground when send new message), teamviewer website do not purpose Quick Support version (the most ussed in Remote Support on first to find it
TeamViewer Response
2 months ago
Hi Nicolas, Thank you for choosing TeamViewer as your favourite remote access tool! We are so thrilled to hear that you like the different modules of TeamViewer. We always strive to keep TeamViewer intuitive and accessible to all. Meanwhile, we are so sorry to hear about the issue you have experienced with Files Transfer, feel free to bring this discussion to TeamViewer Community (https://community.teamviewer.com/) and we may share and help with the improvement. We hope you enjoy using TeamViewer all the time! See you in the community! Have a nice day! Best, Ying/TeamViewer
Sadaharu
Marketing Planner in Japan
Verified LinkedIn User
Telecommunications, 10,000+ Employees
Used the Software for: 1+ year
Easy remote application for getting started
Comments: In my job, I support marketing teams and designers in troubleshooting, but in the past, I used to give instructions over the phone while imagining the other party's situation. The two parties shared the same relationship. Still, mostly it was a job where "experience matters", but after introducing TeamViewer, anyone with some knowledge can support and do everything remotely. A case that used to take an hour to resolve a problem can now be completed in less than 10 minutes. This reduces stress in people on both sides and saves time and resources.
Pros:
It can be started without any particular configuration of the target terminal. Since the connection can be initiated simply by making use of the "ID" and "password", it is possible to connect to work computers with a sense of speed. I mainly use it to connect to company computers when I work from home and need some material that I don't have stored in the cloud.
Cons:
This depends on the specifications of the machine and the network environment of each machine, but the operation is slow and not comfortable to handle. Some people say it would have been faster if they had taken more time. If there is any part that can be improved on the software side, I would like to see it improved.
TeamViewer Response
2 months ago
Hello Sadaharu, Thank you for contributing the valuable time to share your unique remote access experience with TeamViewer! TeamViewer always aims to be the pioneer in the remote access solution. Helping many TeamViewer users like you to practice a cost-effective work style is also the pursuit we are moving towards. We are greatly appreciated to have your trust and support in choosing TeamViewer! Did you know that TeamViewer Community (https://community.teamviewer.com/English) welcomes worldwide users to join and share their questions and discussions together. We hope to see your participants too! See you there! Best, Ying/TeamViewer
Ana
Security Architecture Discipline leader in Spain
Verified LinkedIn User
Banking, 10,000+ Employees
Used the Software for: 1+ year
Alternatives Considered:
A tool that enables remote assistance with almost no operational restrictions
Comments: It is very useful because remote connection is possible whenever there is an Internet environment for terminals in places that do not have a VPN environment. For those who are not familiar with PCs, we also use it for classes on the use of the system and Excel, as you can see the operation on this side. Since it can be accessed immediately even on bases outside the prefecture, problems can be solved immediately.
Pros:
Installation is easy and can be started with little or no initial configuration. There are few input items at the time of connection, and even if the other party's employee is not very familiar with PCs, etc., the remote connection can be made easily. Since confirmation messages from the administrator can be displayed when the software is installed, almost all operations can be performed while the other party is connected, and almost all operations can be performed while the other party is remotely connected.
Cons:
TeamViewer 13 is what we are currently using, but it was only ever purchased once. It looks like the latest version only has one subscription, so I would like to have a one-time purchase. It may depend on the network environment, but performance can be slow.
TeamViewer Response
2 months ago
Hello Ana, Thank you for your efforts in sharing the amazing feedback about TeamViewer! We are so thrilled to know that TeamViewer became a powerful tool for you to remotely connect to others at the same time! We are happy to hear that TeamViewer is a user-friendly remote access solution for you too. TeamViewer couldn't grow further and stronger and have a better competitive advantage without your support! Again, we can't thank you enough for supporting TeamViewer and we hope you enjoy using TeamViewer as always! Best, Ying/TeamViewer