Esker
What Is Esker?
Esker is a global cloud platform built to unlock strategic value for finance and customer service professionals, and strengthen collaboration between companies by automating the cash conversion
Read more
cycle. Esker's mission is to build a foundation that promotes positive-sum growth: increased productivity, improved employee engagement, and greater trust between organizations. By developing AI-driven technologies and automating the order-to-cash and procure-to-pay cycles.
Read less
Who Uses Esker?
Industries: chemical, education, electronics, financial services, food & beverage, healthcare, industrial equipment, life sciences, manufacturing, services, technology, utilities, wholesale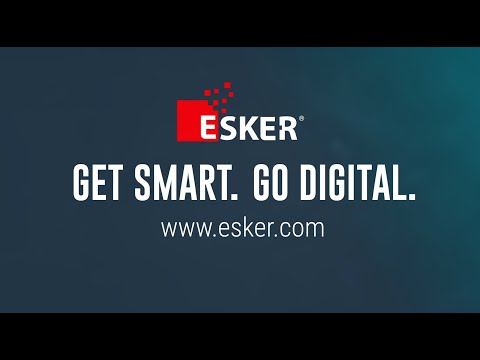 Not sure about Esker? Compare with a popular alternative
Chad
Director, Customer Support in US
Verified LinkedIn User
Building Materials, 501-1,000 Employees
Used the Software for: 2+ years
Esker Sales Order Processing has enabled us to reach big goals
Comments: Esker allowed us to move from 64% of orders submitted electronically to 77%. The most impressive part to me is the implementation process and relationships you build with the team. Esker is special because they care about our organization and are always wanting feedback and willing to help us use the tool as effectively as possible.
Pros:
Very easy to use and many features out of the box. The reporting and dashboard are great to create transparency of your current status and gives employees a way to see how they are doing. Lastly, Esker is always adding value to the product. They have 3-4 significant improvements in their release each year.
Cons:
We had to implement in the disconnected mode because of internal issues. This creates problems with not being able to make real-time calls to SAP. You also need to be mindful of how your employees are using the software and allow the AI and machine learning to do it's job.
Nathan
Analyst, Information Systems in US
Consumer Goods, 10,000+ Employees
Used the Software for: 6-12 months
Great OCR SOP Option
Comments: Our hardware was aging and we needed to implement a loss reduction strategy. By moving to the cloud we have nearly cut our MOB costs in half.
Pros:
reporting down to the individual field level helps gauge cost to serve
Cons:
Needed lots of customization to fit our equally heavily customized ERP. Not really esker's fault but something to keep in mind if your ERP is not out of the box.
Nancy
Sr. MIS Specialist in US
Automotive, 5,001-10,000 Employees
Used the Software for: 1-5 months
Difficult Implementation Sketchy Documentation
Comments: If it works, it will be nice for our no brainer accounts - utilities, leases, services, etc., but some of the trickier stuff may prove to be more work than our AP folks have in mind.
Pros:
EskerAP appears to have a great deal of functionality, particularly with 3-way match and setting up autopay. The entire suite most likely gels quite well together. The Esker implementation team are helpful and well organized and keep us on task.
Cons:
The mapping documentation is horrific at best. The FFD documents rarely list or match required elements, which are in other "sample" worksheets sheets that contain CSV fields that are incredibly difficult to read and parse. If we use the sample sheets, we receive missing element errors, use the FFD and receive more/different missing element errors. Use all fields from both documents and receive errors that we are sending fields that do not exist. Incredibly frustrating! The technology is somewhat outdated. They do not accept direct XML or JSON formatted files, so all data must be converted to CSV, which requires heavy manipulation to strip commas, etc.. Then jobs and programs must be written to extract, insert a CSV string for the header fields, convert the extracted data to CSV , move to a queue and send all files once per hour. Tables such as Vendor data, GL Accounts, Tax Rates, Payment Terms, etc., should not need refreshed 10-12 times per day. There is also no option to set exchange rates by vendor. In our case one division orders and pays foreign vendors in their currency, and our other division orders in foreign currency, but pays in USD.
Verified Reviewer
Customer Service Representative in Honduras
Verified LinkedIn User
Outsourcing/Offshoring, 2-10 Employees
Used the Software for: 2+ years
Order Entry
Comments: It is a very functional and necessary tool, we placed the orders in a timely manner.
We satisfied our customer expectations.
As an employee, i think its very appropiate for us, since that tool gave us the power of success in our order entry experience.
Pros:
What i'd like the most is the way i used to get out the orders from the queue in an easier way, the tools are very appropiate, you can take the time that you want to processed an order properly. It is a very functional tool that we can get used to, in order to help out our customers and get the order processed in the time they are requesting.
Cons:
Sometimes it has some technical problems or it was on maintenance and we delayed our daily work.
Linda
Training Specialist in US
Automotive, 10,000+ Employees
Used the Software for: 1+ year
Alternatives Considered:
Esker cuts order entry time drastically!!!!!
Comments: With Esker, all orders get in on time and accurately which allows CSRs to have time to spend on other tasks.
Pros:
I like that the system can be taught to recognize the fields you need. The reporting function is a breeze to set up.
Cons:
The only drawback is that it can't read handwritten orders, we don't get that many so it is not a big issue.