What Is 365villas?
365Villas is a leading All-In-One Vacation Rental Software comprehensively built for any device. In addition to powerful Property Management Software, we offer integrated websites, channel manager, and revenue management solutions to users in over 60 countries. Our PMS is highly flexible and easy to use. Unified Communications, Owner Management, and Integrated Accounting are some of our differentiators. At 365Villas there are no start-up fees, no transaction fees, and no lock-in contracts.
Who Uses 365villas?
Property managers of all sizes, starting from 3 properties on up, and operating in the greater vacation rental industry.
Where can 365villas be deployed?
Cloud-based
On-premise
---
About the vendor
365villas.com
Located in London, U.K.
Founded in 2010
Languages
English, French, Spanish
365villas pricing
Starting Price:
US$106.00/month
No free trial
No free version
365villas does not have a free version and does not offer a free trial. 365villas paid version starts at US$106.00/month.
Pricing plans
get a free trial
About the vendor
365villas.com
Located in London, U.K.
Founded in 2010
Languages
English, French, Spanish
365villas videos and images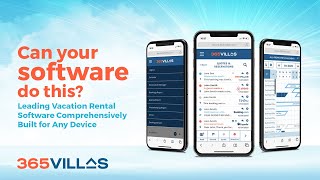 Features of 365villas
Accounting Software
Communication Management
Contact Management Software
Document Management Software
For Vacation Rentals
Guest Communications
Guest Experience Management
Lead Management Software
Marketing Automation Software
Owner Statements
Reporting & Statistics
Reservations Management
Vendor Management Software
Work Order Management
Alternatives to 365villas
Zanneta
Head of hotel distribution in Latvia
Verified LinkedIn User
Hospitality, 11-50 Employees
Used the Software for: 6-12 months
Try it and you will never regret
Comments: Long story short: I was keeping an eye on 365villas property management software for 3 years. It was hard decision to start using vacation rental management software knowing that it could be way behind in properties management comparing to hotel field.
When I knew that a trusted professional from hotel field start working where I decided to go ahead. Support team, it all because of you!
It was not love from from sign, I had to give it a time and write dozen of emails to support team, expecting anwers in seconds. Guys from support were strong enough to handle my preassure and now I could definitely say that I will not change this PMS to any other. If you relax, give it a time and remember that vacation rentals software are young in comparison to hotel than 365villas is definitely the best to try.
Latest update is simply brilliant!
Pros:
New software update is just fabulous! Price is very competitive
Cons:
Previously in 2017 support was not great, good that ts has improved significantly
Giulia
General Manager in Italy
Hospitality, Self Employed
Used the Software for: Free Trial
Usability and Reliability
Comments: To be honest I'd like to use 365villas but I had to stop the on boarding process, becouse of problems with my old website, which had made my needs higher and than 365villas price to high for me, during
this pandemic period, when market is uncertain and unstable....
Pros:
Easy of use, without any doubt! Intuitive, easy to use, well organized and smooth onboarding. The person who assisted me in on boarding is reliable and well organized!
Cons:
Usability, and there are all the desired Features!
Alternatives Considered: AvaiBook, Smoobu and Avantio
Reasons for Choosing 365villas: I was searching for a softwere created for villas unit NOT for hotel bedrooms, and I can confirm that 365villas is created on villas needs.
Switched From: Rentals United and Kross Booking
Reasons for Switching to 365villas: It's a good product but what made me make the final choice was the reliability of the person who followed me in on boarding. The transition from one management system to another is very delicate, and being followed well is essential!
365villas.com Response
9 months ago
Dear Giula, Thanks so much for the thoughtful review. Your kind words about the ease-of-use of our platform and the quality of our support mean a lot to us. We work hard on them both. We are sorry for the stress the pandemic is putting on your business and we hope to have the pleasure of servicing you again. For other reaaders: 365Villas is the only platform on the market that not only offers different plans and pricing based on portfolio size, but also offers more niche and sophisticated functionality in flexible bolt-on option packaging. This means users pay only for what they need at any point in time. As of yet, no completing platform offers as much flexibility or control in finding the right balance between spend and functionality for your unique business needs. Regards, The 365Villas Team
archana
Co-founder in U.S.
Hospitality, 2-10 Employees
Used the Software for: 6-12 months
Great team and product
Pros:
The property manager features, guest communication, owners portal, accounting and website integration are the highlights !
Cons:
should integrate some more commonly used channels in India ,like "makemytrip" and "goibibo" Channel manager team needs to work on explaining things better and communicating with the channels
Alternatives Considered: Hostaway, Guesty For Hosts and Lodgify
Leisure, Travel & Tourism, 2-10 Employees
Used the Software for: 1-5 months
industrie's leading software - A nightmare
Comments: It was a nightmare. Nearly every time we received a new deadline when our website should work properly. Deadlines were displaced without clear communications to the customer. Although their product without multilanguage functionality was useless for us and it was definitely not our fault that it was not working, we were supposed to pay nearly the full amount. I have spoken with other customers that are having same problems and these guys are still calling their selves as world's leading solution in that market... That's ridiculous
Pros:
- Some employees really tried to help us. - Sales presentation is really good
Cons:
- their software especially the WordPress website is not ready to be sold as a product that is working properly. - the WordPress theme is full of bugs - the multilanguage function is not working - most of the time I was writing translations and bug lists - communication with the team was not working. Waiting for feedback for more than a week although there were a lot of problems with our project - always delay in delivering or bug fixing - no confession about their missing delivery of a working product - cooperation partners like Rentals United did not work as promised
365villas.com Response
4 years ago
97.5% of our reviews are very positive. Here is a copy of the German website Jan Kramer is supposedly so upset about: http://krame22.websites.365villas.com/de/ It's a new theme. We made clear at the start it would take time to deliver everything in German - which we did. After his trial, Mr Kramer confirmed he liked our functionality better than what he could find in Germany or his current PMS and was willing to wait. Mr Kramer is actually upset because he signed up to Rentals United thinking they'd connect to a German channel he wanted. When this turned out otherwise, he demanded refunds from us both. This matter had nothing to do with us. Nonetheless, we still tried to help him. Mr Kramer seems to be a start-up with little activity. He has held the threat of this review over us to try to extort a refund when none is due. We refused to bow to it. He also made many legal threats. None has materialised. Other providers should beware before partnering with Mr Kramer.
Hospitality, 2-10 Employees
Used the Software for: 6-12 months
A great choice!
Comments: Less time spent checking on the finances, and the consistency of the reservations across all the integrated booking channels has saved us time that we now focus on updates to our service and the units we manage.
Pros:
The software is easy to learn and use, and the support team responds fairly quick. There are always ways to work around specific issues that may be uniquely to our application, which helps a lot, and 365 will listen and possibly work your situations into their software as well. Moving from another Software to 365 has helped me grow my business in a short period of time with minimal stress.
Cons:
I can't really say. Compared to where I was, I have no complaints.
Alternatives Considered: Hostaway, Smoobu, Avantio, Guesty and Lodgify
Reasons for Choosing 365villas: Cost and control of cost. I know what my expense for the year is up front, and with Guesty, it was always changing.
Switched From: Guesty
Reasons for Switching to 365villas: Their communication and product explanations were open, and I liked the menu form of selecting the products I could use to enhance my business. From my first contact with them, they were on my short list.
365villas.com Response
9 months ago
Dear Stephen, Thank you for this kind review. Achieving ease-of-use with our platform and helping our users grow their businesses are always key objectives for us. Your remarks about the on-boarding process being relatively smooth are especially heartwarming given that you selected not only our PMS, but our channel manager and integrated website solution as well. Implementing all three solutions together with "minimal stress" as you say, is a real triumph. We're delighted you moved from Guesty to 365Villas. Regards, The 365Villas Team