What Is Coupa Business Spend Management?
Coupa's cloud-native suite of Business Spend Management applications lets customers gain visibility and control over their spend and supply chains. Customers get an end-to-end process that helps drive collaboration across procurement, finance, treasury, compliance, and supply chain leaders to help their companies spend smarter, mitigate risk, deliver on ESG commitments, and improve resilience.
Who Uses Coupa Business Spend Management?
Medium-large organizations in all industries who seek visibility & control over all types of spend & optimized supply chains to improve resilience, get more efficient, capture savings, mitigate risk.
Where can Coupa Business Spend Management be deployed?
Cloud, SaaS, Web-based, Android (Mobile), iPhone (Mobile), iPad (Mobile)
About the vendor
Coupa Software
Located in San Mateo, U.S.
Founded in 2006
Phone Support
24/7 (Live rep)
Chat
Countries available
Canada, United States
Coupa Business Spend Management pricing
Starting Price:
Not provided by vendor
Coupa Business Spend Management does not have a free version.
About the vendor
Coupa Software
Located in San Mateo, U.S.
Founded in 2006
Phone Support
24/7 (Live rep)
Chat
Countries available
Canada, United States
Coupa Business Spend Management videos and images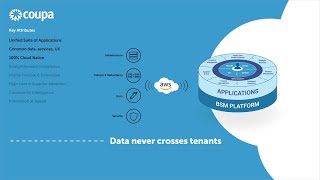 Compare Coupa Business Spend Management pricing with similar products
Features of Coupa Business Spend Management
Compliance Management
Contract Lifecycle Management Software
Contract/License Management
Demand Forecasting
Expense Tracking
Inventory Management Software
Inventory Optimization Software
Invoice Processing
Procurement Management
Purchase Order Management
Requisition Management
Sourcing Management
Spend Analysis
Spend Control
Spend Management Software
Supplier Management
Alternatives to Coupa Business Spend Management
Reviews of Coupa Business Spend Management
Garth S.
Director of PRocurement in U.S.
Verified LinkedIn User
Media Production, 1,001-5,000 Employees
Used the Software for: 1+ year
Things to be aware of for new users
Comments: Overall my experience has been fantastic! I am beginning to get reporting at a detailed level that I've never had, I enjoy the audit trails and Audit oversights
Pros:
Super powerful package. We have a Procurement module, SIM (Supplier Information management), Sourcing, AI. This is an extremely powerful and well-orchestrated product. We had a very knowledgeable implementation team from Coupa which to really great job discovering on identifying what we needed due for the setup. We've been using this product now for about 4 months and now implementing a second affiliate company without much assistance from Coupa and it's going pretty well.
Cons:
Beware that systems integration is much more complex than anyone tells you it is. Its been four months since go-live, And we are still having problems with integrating to oracle. Some may read this review think that this is a problem with the implementer, some of it may be. Specifically, we are struggling with the supplier integration and though we have weekly calls, we are still having problems. So just wanted to be aware we were made to believe that Integrating was done all the time and has never been a problem
Eyüp Ö.
Industrial Engineer in Turkey
Financial Services Software, Self Employed
Used the Software for: 1-5 months
Alternatives Considered:
Coupa EO
Comments: I can devote more time to other tasks because I create invoices more quickly.
Pros:
They are very good at billing. I think the security systems are also good
Cons:
It still has a lot of shortcomings in integration with some software. They need to fix these asap
Financial Services Software, 501-1,000 Employees
Used the Software for: 1+ year
Coupa is the worst software I have ever used
Pros:
Absolutely nothing. The software is the least institutive, user friendly I have ever used.
Cons:
Regardless of whether I am using expenses, requisitions or invoices, I have never been able to submit or save anything without having to get the finance team to perform magic in the background. The end user typically gets an error message "Please fix the errors below", but there are never any highlighted fields or errors displayed.
Shivam A.
Engineer II in U.S.
Pharmaceuticals, 1,001-5,000 Employees
Used the Software for: 2+ years
Good Tool to Manage Purchase Orders
Comments: Overall experience has been good. The vendor receives the purchase order once approved via email. Once the service has been received attaching the invoice and the closure procedure is easy as well.
Pros:
I have been using Coupa for 2+ years. Mainly use it to create Purchase Orders to vendors. Receive invoices from suppliers. The software has an inbuilt approval process to route Purchase Orders, vendor master service agreements. The software can be synced with Microsoft office which allows you to get notifications when a request is new your queue or the Purchase Order has been approved or denied. It also allows you to run queries to tabulate budgetary expenses and track historical expenditure. Creating a Purchase Requisition is fairly easy and straightforward.
Cons:
Coupa is very useful and easy to navigate but requires training to become proficient in the application. Suggestion is to create job aids/ training procedures which can be used as a reference guideline whenever needed specially for personnel not using the application too often.
Lynne F.
Executive Director in
Used the Software for: Not provided
Coupa's e-Procurement Solution Helps Students in Need
Comments: I highly recommend Coupa as an e-Procurement solution. Once you get the hang of it, it's really quite easy. And, once you do, your organization's work flow will be enhanced forever. The most amazing part is to be able to take immediate advantage of Coupa's incredible new features, such as iRequest. Coupa is not a static company, and they are constantly updating features. Coupa's team provides personalized service and lots of 'hand-holding'. They listen well to our needs. And, our students in need in the Washington, D.C. area are better served as a result Coupa has helped transformed us into a 21st century organization with streamlined operations that enable us to stretch our donor dollars and help more students in need.
Pros:
Neediest Kids is a nonprofit organization that works with 8 area school systems in the Greater Washington, D.C. area. We provide emergency funds to these school systems to purchase the basics - new clothes, school supplies, medical or dental care, eye exams and glasses, and more - so students (K-12) can stay in school and thrive. Coupa's system has moved Neediest Kids from a traditional paper-based system of authorizations and receipts with school professionals spending their own time to shop for items for their students in need. We operate now through a web-based process of issuing POs that go directly to vendors with products shipped directly to school professionals. Thus, we have efficient purchasing, streamlined requests to vendors, real-time product and budget tracking, invoice reconciliation, and more. It's fast...it's internet fast!
Cons:
There are always a few tweaks that could happen here and there, but we get 95% of what we need!