What Is Vtiger CRM?
Vtiger's mission is to help businesses thrive at work. We have built AI-powered software that gives your customer-facing teams the ability to implement a robust customer experience strategy with the power of One View.
Vtiger Cloud CRM is intuitive and powered with AI, designed to help you work better. With a brand new mobile app and integrations to over 500 business applications, Vtiger works where you are.
Who Uses Vtiger CRM?
Vtiger is perfect for small to medium businesses that have agile sales, customer support, and marketing teams focused on boosting growth, marketing ROI, and customer satisfaction.
Where can Vtiger CRM be deployed?
Cloud-based
On-premise
---
About the vendor
Vtiger
Located in San Francisco, US
Founded in 2003
Vtiger CRM support
Phone Support
24/7 (Live rep)
Chat
Vtiger CRM pricing
Starting Price:
US$42.00/month
Yes, has free trial
Yes, has free version
Vtiger CRM has a free version and offers a free trial. Vtiger CRM paid version starts at US$42.00/month.
Pricing plans
get a free trial
About the vendor
Vtiger
Located in San Francisco, US
Founded in 2003
Vtiger CRM support
Phone Support
24/7 (Live rep)
Chat
Vtiger CRM videos and images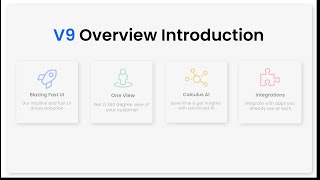 Features of Vtiger CRM
Activity Dashboard
Alerts / Escalation
Alerts/Notifications
Appointment Management
Automated Routing
Calendar Management
Calendar/Reminder System
Campaign Management Software
Client Management
Collaboration Tools
Contact Database
Contact Management Software
Content Delivery
Content Management System (CMS) Software
Customer Complaint Tracking
Customer Database
Customizable Reports
Dashboard Software
Data Import/Export
Document Storage
Email Management Software
Email Marketing Software
For Insurance Industry
For Sales Teams/Organizations
For Small Businesses
For Startups
Interaction Tracking
Knowledge Base Management
Lead Capture Software
Lead Management Software
Lead Qualification
Lead Segmentation
Live Chat Software
Marketing Automation Software
Mobile Access
Multi-Channel Communication
Opportunity Management
Performance Metrics
Pipeline Management
Predictive Analytics Software
Quotes/Estimates
ROI Tracking
Reporting/Analytics
Routing
Sales Activity Management
Sales Pipeline Management
Segmentation
Self Service Portal
Social Media Integration
Support Ticket Management
Task Management Software
Territory Management
Third Party Integrations
Web-based Deployment
Workflow Management Software
Alternatives to Vtiger CRM
Computer Software, 11-50 Employees
Used the Software for: 2+ years
Vtiger CRM vs Competition
Comments: overall, it's been great! The biggest bang for the buck for sure. It's still expensive but you get what you pay for and I highly recommend it.
Pros:
The best thing I liked about this software was the ability to do sales, marketing and support all in one program. Our sales team is able to track opportunities and view sales funnel reports. The marketing team is able to email and tag the contacts to specific target audiences. The support team is able to use a ticket system in order to keep all projects and assistance notes in one place.
Cons:
There are certain areas where you have to click here and there just to reroute you back to where you were. Like going from an opportunity to quotes and if you want to add notes, you have to go back to the opportunity and them go to your comments. Also the enterprise search tab doesn't always find everything you're looking for so you have to specifically go to contacts or organizations to find them.
Alternatives Considered: HubSpot Sales Hub
Reasons for Choosing Vtiger CRM: Infusionsoft did not have a support ticket system and their sales portion is ok at best. The quotes aren't customizable the way Vtiger is.Infusionsoft is really good for marketing but that's about it.
Switched From: Keap
Reasons for Switching to Vtiger CRM: We chose this because it addressed all 3 of our needs. (sales, marketing and support) We didn't want to have to purchase a whole other software and go through a whole other set up, when we can have it all in one place.
Building Materials, 11-50 Employees
Used the Software for: 2+ years
Flexible and complete package
Comments: We initialy came to vTiger as a cheaper alternative to Salesforce. We found not only a valid and much more easily customizable CRM but we have developed the modules to handle internal Cases, as a Project Management tool, as a simple DB to keep track of products, as a Quote & shipping
Pros:
Can be customized without being a programmer. It is flexible enough to do many things well enough for a small company that does not need very specialist applications. It is intuitive enough for my users to take up without pushback
Cons:
I would love better integration with Google Sheets. Poor (non existent) formatting of reports. No community forums or "vote for function"
Alternatives Considered: Zoho CRM, Insightly and Copper
Reasons for Choosing Vtiger CRM: Salesforce charges double and you still had to pay extra to third parties for basic things like Edit in grid, etc
Switched From: Salesforce Sales Cloud
Reasons for Switching to Vtiger CRM: Greater flexibility, price to function ratio
John
Marketing Manager in Australia
Construction, 11-50 Employees
Used the Software for: 2+ years
Salesforce Killer
Comments: I can confidently say implementation of this software has significantly increased the sales and marketing efficiencies of the business in which i have implemented this software.
Pros:
This is an enterprise level ERP package that offers practically every feature of Salesforce, and structured to allow for SME type admins to build this via custom modules and flexible dev environments. It is a highly practical package that allows non-qualified programmers to get the equivalent bespoke style functionality out of the system/
Cons:
Project mangement is clunky. I cant drag/drop task bars in the gantt chart. the reality is i need to use smartsheet to get the flexibility i need here, together with the highly useful linking between the subtasks - i.e. STart to start lines the task bars from the start. End-to-Start is the typical 'cant start task 2 until task 1 is finished', plus the multiple day delays and advancement options with these relationships
Alternatives Considered: Zoho Desk
Reasons for Switching to Vtiger CRM: I was introduced via the Open source installer offered through Go daddy website management. The pricing makes the commercial version of the software highly reliable and a no brainer.
Publishing, 2-10 Employees
Used the Software for: 2+ years
VTiger is value for money
Comments: I'm very happy with vTiger although it is not SalesForce. You feel you are working with a company who cares about you and try for all means to help you to improve your business.
Pros:
It has a lot of resources. For a small company with low budget it's a great choice. The customer support is great, they are always at your service with a lot of patience and dedication. They are constantly adding new features and improving the software.
Cons:
Some of the features are complicated to adopt, like the project module and it is not very friendly. Although the email campaign module is quite good it needs some improvements when you try to resend a campaign, it needs to generate a URL of the campaign like MailChimp does. As a small company I would like it to allow us to adopt different identities (as an example, I'm the CEO but sometimes I'm acting like a support agent so I will like the CRM to allow me to change my name in that case to pretend we are a bigger company, it is not nice to sign with the name of the CEO from the email address of [email protected])
Alternatives Considered: Salesforce Sales Cloud, SugarCRM, Soho66 and Hootsuite
Reasons for Choosing Vtiger CRM: I switched like 10 years ago, at that time I was using the OpenSource version of both
Reasons for Switching to Vtiger CRM: I find that the price is affordable for our size of business
AnnA
CEO in Sweden
Verified LinkedIn User
Marketing & Advertising, 2-10 Employees
Used the Software for: 2+ years
Saved my working life!
Comments: I own and run 2 companies, one together with a good friend and she has also one more company. Since we started in 2010/2011 we have been working more and more closely together and when starting to use Vtiger in… think 2013…. We share all our business information in Vtiger. This gives our small companies a great advantage and brings security to our customers. Sometime in 2014 I got sick and started to get more and more fatigued and in the end of November 2017 I was diagnosed with ME/CFS. This means my head get tired and I have problems remember things and plan my work. Without Vtiger I would have had to stop working. No, it is really the truth! From the start we have created new modules, new checklists, new ways of project management because we wanted to hire more people and wanted them to work like we do. We have modules for customer updates of Wordpress sites, for SEO management and for support. We haven't hired a lot of people but all these adapted workflows is now an enormous help due to my cognitive issues. I can still work, not as much as before but still working. So, thank you Vtiger!
Pros:
Its ADAPTABLE! On the first look you might get surprised of all the functions but when you start using it you will realize there are even more functions and you will love it. I do realize that if you want a CRM, support system or project management and do not want to adapt anything to your organization - then the Vtiger might not be for you. But I have never worked with a system that I didn't want to adapt. There is always some process, some pipeline that you do different than other businesses and I was so happy when I found out that I could make the Vtiger – to be my system – adapted for my needs. And I love the fact that even if we are small companies, we get good support from Vtiger.
Cons:
Well actually the fact that is so adaptable and still very powerful do requires that you think and plan before you start to create new pipelines, modules. Because there are so many functions that you can create a module that serves even the most complicated process. And so even if you can make anything – take the time so write done and plan the process.