Alloy Navigator
What Is Alloy Navigator?
Alloy Navigator is a real-world solution beautifully designed for real-world customers, built by real-world IT people just like you. Navigator provides thoughtful answers to daily challenges and
Read more
ensures your company gets the right fit. At its heart, our products come with a powerful process automation engine surrounded by an interface that automatically creates meaningful relationships with data that matters to you. Navigator handles Help Desk & Asset Management through to ITIL-driven standards.
Read less
Who Uses Alloy Navigator?
Small, medium and large companies of all industries looking for an all-encompassing solution accompanied by a powerful, process automation system, 3rd-party integration and a flexible API.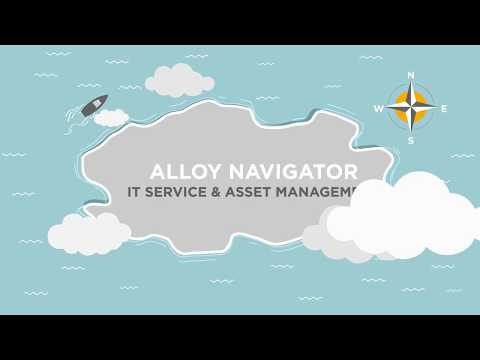 Not sure about Alloy Navigator? Compare with a popular alternative
Alternatives to Alloy Navigator
Reviews of Alloy Navigator
Jörg
IT-Engineer in Switzerland
Education Management, 1,001-5,000 Employees
Used the Software for: 2+ years
Alloy Navigator - our daily help - thank you!
Comments: We are responsible for the IT infrastructure of the schools affiliated to us in the canton of BL (Switzerland).
We have been using Alloy Navigator as a ticketing system (incident, service request) for many years.
We keep discovering great functions that are very helpful. The knowledgebase is used extensively to provide instructions for us IT, but also for teachers and students.
The purchases of hardware as well as software and services are authorized and processed via Alloy Navigator.
We are currently introducing the use of Alloy Navigator's project management and are learning to work with it.
Pros:
All of our Service Requests, Incidents, Announcements and instructions for inquiries are centralized and can be linked as required. The purchasements of hardware, software and services can be managed centrally. If necessary, different permits can be configured as a condition prior to purchasements. Sub-tasks of Service Requests, incidents or projects can be managed clearly. If you want, adjustments to workflows, masks, etc. can also be made. Alloy Navigator's webinterface is very good, most or almost all of the work can be done in the web browser. This is really fantastic!
Cons:
Alloy Navigator is very good software. I can't find anything that we can call a disadvantage.
Caroline
Program Analyst II in US
Public Safety, 201-500 Employees
Used the Software for: 2+ years
Extensible Incident Management, Asset Management, and Incident Workflow Management
Comments: Our shop has been using this software for years because it has excellent value, with good customer support. We use the product everyday to manage our support desks, manage our hardware inventory, and provide a web interface to our agency users. We are continually improving our efficiency by automating tasks, and we manage an extensive knowledge base with hundreds of articles for either end-users or tech support staff. Our clients also find the system fairly easy to use to submit tickets and interact with the technicians. There is always more we could be doing with this system. I am impressed with its capabilities and flexibility.
Pros:
We have found Alloy to be highly customizable to meet our needs - we can track the life cycle of hardware assets, we can remotely manage machines directly from an incident case, we can link incidents and problems to the computers history, and and we can automate many simple and complicated tasks from resetting a password to requesting an RMA from a hardware vendor. I have used many other Enterprise IT incident management software products and this is still my software of choice.
Cons:
The system is very powerful and with power comes complexity that requires training and understanding of how the underlying database interacts with the software in order to get the most out of the product. Understanding the hierarchy is important when setting up your service desks if you support more than one technical team. We have an IT Support Desk as well as a Facilities Support Desk, and a Supply Order Desk.
Eric
IT Support Specialist in US
Verified LinkedIn User
, 1,001-5,000 Employees
Used the Software for: 1+ year
Alloy does the job
Comments: The majority of our IT department lives inside Alloy. It is simple to use for the average technician and the user portal is good as well. The integration of software allocation and databases of all hardware on our network is a must.
Pros:
- Alloy user portal and technician portals are easy to use - Runs quickly and smoothly - Easy to import users from AD - Email integration for alerts on new tickets and updates on existing tickets - Training that Alloy offers is well thought out and contains tons of information.
Cons:
- Customer Support can take 1-3 days to get back to you - The backend of Alloy is very confusing. Trying to change simple things can be extremely difficult since there is no search functionality and no documentation online. - If you want custom features added it is going to cost a decent chunk of money.
Alloy Software Response
4 years ago
Thanks for providing a review! We're happy you enjoy using our solution! I apologize for the experience you had with Support. However, I'm positive it was an isolated situation. A review of your company's 138 tickets since 2015 shows an average response of 2hrs 19mins with average resolution under 24 hours. Given that I expect your next experience will be a positive one. For online documentation, I would strongly advise the use of our Support Portal. Our product help and admin guides are all online along with our searchable Knowledge base. The admin part of the product does have a learning curve, but you'll find the ratio of flexibility to ease of use to be unmatched. Other products provide a fraction of the power or they require programming knowledge to leverage the same results. Use the search workflow feature to find what you're looking for or press F1 anywhere for contextual online help. Please reach out to us if you need anything and thank you for using our solution!
Verified Reviewer
Business Owner in Australia
Verified LinkedIn User
Used the Software for: 2+ years
I love the product and it has helped us and our client streamline their support processes.
Comments: providing an efficient service desk
Pros:
There are many features, and they are entirely customisable. The out of the box features and set up is very useable from day 1. Support is great.
Cons:
Programming is too simplistic and doesn't encourage code reuse - which leads to difficulty in long term maintenance. The agreement with Alloy suits an end customer, it doesn't cater for the needs of true resellers and service providers. Priced for larger organisation - difficult for small organisations to get started.
Alloy Software Response
4 years ago
Thanks for the kind words! We truly appreciate your loyalty to Alloy's products! We agree the functionality and price of our Enterprise edition is aligned with medium to large companies in mind. If you would like something more suitable for small to medium companies we'd suggest you take a look at our Express edition. Regarding workflow, the system is designed specifically for the purposes of reusing every piece of a process you design. You can design one form that is used in multiple workflows, or you can create a function with simplistic or extremely complex operations any process can take advantage of. A good example is the ability to request manager approval. There's a built-in function, no different than any function you can create, you can add to any workflow. That's as reusable as you get. I urge you to get in touch with us so we can show you. It will unlock some extremely powerful benefits for you and your customers.
Angela
Program Application Manager in US
Health, Wellness & Fitness, 1,001-5,000 Employees
Used the Software for: 2+ years
Alloy for Service Requests and Change Requests
Comments: I really like what I've used so far. It's a part of my daily work, and it makes everything fairly simple. I'd like to explore more of the available features within the application, and I'm really excited to see what else we can do!
Pros:
Please keep in mind that I do not use all of the available features of this system. But I really like the features that I'm currently using. I spend nearly all of my time with tickets and Change Requests. Both features are easy to use, and help me track my work effectively. I love how easy it is to escalate tickets and CR's, create work orders, and communicate with my requestors directly within the tickets. My administrator has also created some very helpful reports and dashboards so I can track the work that my employees complete, and provide visibility to our Executive Leadership. We've even created an entire process surrounding our Change Advisory Board that streamlines the approval process for projects. It's wonderful.
Cons:
It might just be me, but I find both the Activity and History tabs to be confusing / overwhelming at times. I wish there was a better way to quickly see what's happened with the ticket over time.