What Is REALTRAC?
Realtrac Shop Management System is a software company specializing in manufacturing software for machine shops, job shops and make to order manufacturers. The company was founded in the heart of a machine shop and has served the manufacturing industry for over three decades. The program is used by thousands of users across North America. The Real Time Software is very easy to learn and use and boasts the lowest total cost of use software on the market. Operational in Days, Not weeks or Months.
Who Uses REALTRAC?
Realtrac is a Real-Time manufacturing software solution that provides businesses a tool offering them total shop floor control. From quote to cash, Realtrac provides up to the minute information
Where can REALTRAC be deployed?
Cloud-based
On-premise
---
About the vendor
Realtrac Holdings
Located in Livonia, US
Founded in 1981
REALTRAC pricing
Starting Price:
US$189.00/month
REALTRAC does not have a free version. REALTRAC paid version starts at US$189.00/month.
About the vendor
Realtrac Holdings
Located in Livonia, US
Founded in 1981
REALTRAC videos and images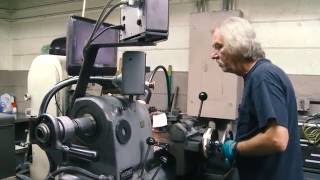 Features of REALTRAC
Accounting Integration
BOM Creation
Bills of Material
Budgeting/Forecasting
Capacity Management
Document Management Software
Financial Management Software
Forecasting
Inventory Management Software
Item Management
Job Costing Software
Material Requirements Planning
Order Management Software
Production Scheduling Software
Purchase Order Management
Quality Management Software
Quotes/Estimates
Reporting/Analytics
Scheduling Software
Supply Chain Management Software
Time Tracking Software
Traceability
Verified Reviewer
Verified LinkedIn User
Machinery, 11–50 Employees
Used the Software for: 2+ years
Finally a shop management program that works for a Job Shop
Comments: Realtrac has really helped organize our shop without creating extra work for our employees.
Pros:
It is extrememly customizeable - You determine how much of each portion of the program really applies to your situation.
Cons:
Would really like to see a way to archive old Jobs. Our daily backup is over 50Gb
Realtrac Holdings Response
4 years ago
Hello, Thank you for posting your review. We have noticed that you posted as private, but i would like to reach out to you to show you how to archive the old jobs that you speak of as a con. This is a very easy process. Please contact me at 734-793-3816 when you have a moment. Thank You, Jeremy Klosowski
Machinery, 2–10 Employees
Used the Software for: 1-5 months
A long look, great decision
Comments: Amazed at how they train. No need to guess, no need to carve out days of forgetful training. Instead Training is as fast as one can absorb. Training is built upon the previous steps. Allowed our business to dictate training direction. Several times before a training session looked at my question as trivial. Considered it would be a waste of their time to show me one thing. In minutes of working together, letting me drive proved to quickly develop and understand the how and why's. The complete process expedites muscle memory, building the retention for a successful implementation.
Pros:
The likes, In short, the ability to build and track multi level BOM's while having Shop management, inventory visibility and scheduling features. These have long been the desirable features.
Cons:
Same as in all software, time to build the data. The choice was to not drop all past data in but to build from this point forward. This means at times go back and enter data from the past system. Our choice, it was not a requirement.
Alternatives Considered: MetaADCS and JobBOSS²
Reasons for Choosing REALTRAC: As the company grows the service department was requiring more manufacturing products. Company Started with WorkflowMAX and developed our API Q2 certification system around it. Now moving to complex manufacturing and focusing on ISO 9001:2015 This made the change to RealTRAC an easy choice. Don't pass up the extreme value in WorkflowMAX.
Switched From: MetaADCS and JobBOSS²
Reasons for Switching to REALTRAC: The decision was based on past experience and looking at what was different today. Used JobBoss in the past and it was a good choice. For comfort it would have been an easy go back to product. NAV, does not seem to have a good finite scheduling system. E2, know other businesses in our area that use it. They are job shops and are satisified with what it does for them. The final decision, RealTRAC is proving to meet the requirements with ease. Constant speedy support has been the surprise that makes the decision a winner.
Machinery, 2–10 Employees
Used the Software for: 1+ year
SNX Precision Feedback
Comments: Running with minimal staff, machine uptimes are higher.
Pros:
Ability to quote materials, and generate PO's from the quote has been a timesaver. the Rightboard is also a tool that helps to get jobs prepared which keeps the uptime on the machines high.
Cons:
Inventory, cost accounting has not worked as well as I had hoped. The complex job has not worked for our business which when I purchased the software I thought it would be an advantage for what we were trying to achieve.
Machinery, 2–10 Employees
Used the Software for: 2+ years
How Realtrac changed the way we do business
Comments: Overall Realtrac has given us a different perspective on how we do business. Jobs now have routers detailing step by step production processes. It has also changed how we manage our inventory by consolidating our warehouse. Realtrac has proven to be an effective tool and everyone in the office enjoys its ease of use.
Pros:
I enjoy the ease of use and how efficient it is when it comes to tracking job statuses. The inventory management module is also great and it allows us to input inventory locations and statuses. So if we have 20 parts that are partially done in stock we can flag them as partially completed. Realtrac has essentially changed our entire business into a more efficient company.
Cons:
The only issue I have is the loading times when it comes to selecting different modules.
Alternatives Considered: JobBOSS²
Reasons for Choosing REALTRAC: Paradox was an old system with troublesome features. It essentially was just an inventory management system and didn't provide any feedback regarding job statuses.
Reasons for Switching to REALTRAC: We choose Realtrac for two reasons. One, E2 was a clumsy system that didn't cover the needs we had and two, the customer service we were provided when we did first started using Realtrac was phenomenal. If we had an issue an email or phone call was always answered quickly.
Defense & Space, 2–10 Employees
Used the Software for: 2+ years
Good at Big Picture, Some Shortcomings and Missing Features
Comments: Overall it does what we need it to do by tracking jobs through the shop, but the costing being "broken" for our use makes it a purchase I may not make again if I had to do over.
Pros:
It's user friendly for ShopFloor logging in and out of jobs and recording time. Timeclock is easy for HR, and tracking down where a job is in the manufacturing process from a remote location is easy as well.
Cons:
My primary beef with RealTrac is that there is no feature (or wasn't a few versions ago) that allows me to SPLIT AN OPERATOR'S TIME when they are logged into two jobs. If an operator is running two machines, or three, or four, all at once there should be an option (if not a REQUIREMENT) that their loaded labor cost and hours are divided amongst the machines they're concurrently logged into. In my company, one operator ALWAYS runs more than one machine in a bank, so not having their time split makes all my costing metrics utterly useless until I manually go into the work sessions to interrogate the data. This is nearly a deal-breaker making me consider another software. (Customer Service / Tech Support informed me this was intentional so that when looking at historical jobs you never under-bid a job). If this is incorrect, someone please call me ASAP! The "Quality" feature is a horribly conceived module, slapped together as an afterthought, and the default reporting within there is awful, has poor formatting, and doesn't integrate well at all with the rest of the system. There hasn't been an update on this module in forever, but new PAID features (RightBoard) are being added and updated all the time.
Alternatives Considered: Plex Smart Manufacturing Platform and JobBOSS²
Reasons for Switching to REALTRAC: Time to get the solution in place and functional, and the local sales/tech support.