15 years helping Canadian businesses
choose better software
What Is OA Mobile?
The Best Mobile CRM for Small Business. Works the same on your mobile phone as it does on your desktop. There are no hidden costs. No consutlants or training is needed. With OA Mobile you get an immediate ROI with a Sign Up-and-Go Experience and free tech support.
OA Mobile provides contact management, calendaring, prospect management, lead development, activity logging and much more! While great for individual users, sharing is built-in, making it perfect for teams and entire companies.
Who Uses OA Mobile?
Any small business that wants to be fully productive on their mobile phone while out of the office and needs to easily track and log correspondence of their current contacts, clients and prospects.
Where can OA Mobile be deployed?
Cloud-based
On-premise
OA Mobile pricing
Starting Price:
US$75.00/month
OA Mobile offers a free trial. OA Mobile paid version starts at US$75.00/month.
OA Mobile videos and images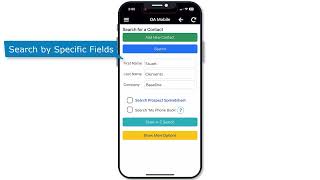 Features of OA Mobile
Activity Dashboard
Alerts/Notifications
Calendar Management
Calendar/Reminder System
Contact Database
Contact Management Software
Data Import/Export
Document Storage
Email Management Software
Interaction Tracking
Lead Management Software
Lead Qualification
Marketing Automation Software
Mobile Access
Pipeline Management
Quotes/Estimates
Reporting/Analytics
Sales Pipeline Management
Segmentation
Social Media Integration
Task Management Software
Third Party Integrations
Workflow Management Software
Alternatives to OA Mobile
Sunil
Broker in US
Verified LinkedIn User
Real Estate, 2–10 Employees
Used the Software for: 2+ years
Reviewer Source
Swiss knife of CRM
Comments: Useful in tracking communication with customers.
Pros:
Development team has been nimble in making changes to make the product relevant with changes in the general field. Have switched industries over the years and have found OA to be practical to use in different industries.
Cons:
Improvements can be made to make some features easier to use, however not sure if those features will be useful for all the users.
Chemicals, 2–10 Employees
Used the Software for: 2+ years
Reviewer Source
Old user
Comments: Everyone who takes a really close look at OA Mobile has been impressed at its ability to keep a lot of information.
Pros:
I have added over 21,000 contacts since I first bought OA in 1993. I have installed it in a company who ended up using it extensively. It is easy to add contacts and the notes is a critical part of the program. OA mobile is very helpful in keeping track of customers, friends etc. When you get old, people think you lose memory, but OA Mobile hides that.
Cons:
OA was originally $12 for the desktop version. OA Mobile has gotten very expensive. When I retire, I will not be able to justify the cost, but will still want the ability to reference contacts.
Alternatives Considered: Salesforce Sales Cloud
Reasons for Switching to OA Mobile: Others are very expensive and do not have the contact database abilities that OA has
Gabriel
Vice President Operations in US
Arts & Crafts, 11–50 Employees
Used the Software for: 2+ years
Reviewer Source
OA Mobile CRM - Like a Good Business Partner
Comments: My overall experience is very good. OA Mobile is a product that works as advertised. I have had it so long I am very biased but I have never had a problem.
Pros:
The most impactful feature is the ease of use on the phone for getting many common taks done. I also like the integration with Microsoft Word and the syncing with Outlook.
Cons:
I like most everthing about the product. I have used it for over 25 years so there is not a lot I don't like. It helped us grow our business for years. The one thing I found a little difficult is setting up the admin rights initially.
Larry
Manager / Director of a school in US
Real Estate, Self Employed
Used the Software for: 2+ years
Reviewer Source
Great features and DATA BASE BACKUP OF ALL MY CONTACTS.
Comments: [sensitive content hidden] has been outstanding over the year since the 1970s. The contact data base has been invaluable.
Pros:
I have had OA from the first release. Having the data base out of my computer has saved me several times when my computer failed. For 13 years in the '70 and '80, I was able to add over 20,000 students names, addresses, phone numbers, email addresses. I was also able to make sub-categories for various awards and student body positions by years. This was a huge benefit for me and the school.
Cons:
It was difficult going right to a name of a person to look up information. For example, if I put in the first letter of the last name, i.e. "S", the data base gave me all contacts starting with "S" and I had to scroll all S's to find the contact. I probably was doing something wrong.
Philomena
Director of Religious Education in US
Education Management, 11–50 Employees
Used the Software for: 2+ years
Reviewer Source
I have been satisfied for over 20 years
Comments: Our OA Mobile is used for our data base. WE have thousands of children and all the information we need is readily available. I love the fact that I can access this information anywhere, anytime.As the director I can contact the families in an emergency . It is helpful for keeping a safe environment.
Pros:
We have a very small department. Over 20 years ago, I had a secretary who was not comfortable on the Computer. She mastered this program and she could not even send an e-mail with an attachment.It is really easy to use and it is not complicated. It is convenient and makes us more efficient.
Cons:
We do not need any added features. It is perfect for our needs.I had a problem with billing and after the first year that was straightened out. It has clearly been the best program for us. And our needs are met.