Local product
InTime
Local product
What Is InTime?
InTime is the leading scheduling and workforce management software built for public safety. InTime's solution is designed to support public safety agencies run their best by automating tedious work,
Read more
optimizing personnel spend, mitigating risk and improving staff engagement. Highlights include OT management, event management, leave management, reports & dashboards, and integrations. Additional modules include timekeeping, shift bidding, court and e-subpoenas, training and asset management.
Read less
Who Uses InTime?
Law Enforcement, Public, & Private Security: Sheriffs Departments, Police, Patrol, Security Companies, Jails & Prisons, Corrections, 911, Dispatch, Fire, EMS, Airports, Universities, Zoos, Healthcare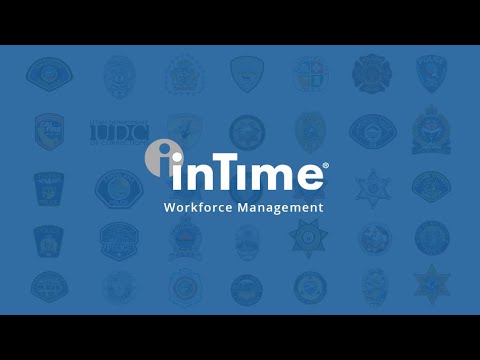 Not sure about InTime? Compare with a popular alternative
Nancy
Police Sergeant in US
Law Enforcement Software, 51-200 Employees
Used the Software for: 6-12 months
Alternatives Considered:
Best scheduling solution for Law Enforcement!!
Comments: We have had numerous problems with our old scheduling system (Executime) which ended up causing unknown shortages on shifts, resulting in overtime. We used Speedshift many years ago which is what led us back to InTime. I have not heard one negative thing about the scheduling program from our sworn nor civilian staff, which is almost a miracle in and of itself.
The support staff has been extremely helpful and responds to requests very quickly.
Pros:
The ease of use and layout. You can see all of your personnel on one schedule which is essential for shift coverage and maintaining adequate manpower.
Cons:
That a successful integration with HTE has not been completed yet. This is making it difficult to convince the finance department to transition to InTime for our payroll solution.
Law Enforcement Software, 51-200 Employees
Used the Software for: 2+ years
InTime on Ontime...
Comments: Our experience with InTime has been nothing but positive. From the initial start up, the folks at InTime has been there for every issue, problem or enhancement request. They have always been quick in getting back to us and making sure that the incident is solved. The yearly InTime Conference is one of the best software conferences that I have attended. The classes are very informative and allow for customer interaction to make sure we understand the product completely.
Pros:
The InTime software has so many great features that make your daily routine so much easier. From the scheduling format that allows quick scheduling additions or movements to the advantages of making posts to fill your needed shifts. Add in the Asset and Training modules and that gives you a bigger bucket for all your data needs. The customer service provided is always there to assist your issues and provide great answers.
Cons:
I find nothing that we do not like about the software.
Aaron
Police Sergeant in US
Law Enforcement Software, 51-200 Employees
Used the Software for: 1+ year
Alternatives Considered:
Intime for Law Enforcement
Comments: Overall the software has allowed us to move from a hybrid paper/digital system that was very time-consuming. The training, sales and support staff at Intime was very helpful in deploying the system. We continue to find new opportunities to take advantage of the features.
Pros:
This software is purpose-built for Law Enforcement and public safety. It covers shift periods that extend over 24 hour periods.
Cons:
Supervisor functionality is not yet available on the mobile app.
Allison
Staff Sergeant in US
Law Enforcement Software, 11-50 Employees
Used the Software for: 2+ years
InTime Revies
Comments: My experience has been great. I have gained so much knowledge and now I am the "go-to" person for InTime questions. I still have so much more to learn and I am excited to do so. I enjoy using the software and teaching others
Pros:
I am just learning the timesheet function and I hope to implement that fully by the end of the year. We have several timekeeping rules and I want to make sure I have a good understanding of how to implement them into the system. My favorite feature (so far) is generating (almost in an instant) invoices for off-duty details. My predecessor was doing this in a word document and using InTime is so much better, cleaner, more professional, and easy. The customer service is amazing. Any time I have needed help or had a question, I have always had someone to reach out to.
Cons:
Sometimes I get confused about the "layers" and amount of data that can be added.
Law Enforcement Software, 51-200 Employees
Used the Software for: 2+ years
InTime Rocks!
Comments: Great product with a very responsive support team.
Pros:
Once you learn how to use this, you will wonder where it has been all your life. The ability to have the most current schedule changes, overtime reports, time bank balances that are always current is invaluable.
Cons:
Some reports cannot do multiple filters so you need to create multiple reports.