Spiceworks
What Is Spiceworks?
The Spiceworks IT Help Desk is purpose-built for IT pros, we have just what you need to run a better internal IT help desk and a better business. Start tackling tickets in minutes with free help desk
Read more
software (on your server or in the cloud). Plus, it's more than just ticket tracking: understand (and change!) team behavior and articulate your value to the business. Get it free today!
Read less
Who Uses Spiceworks?
IT pros! There's nothing better than making our IT profesional's lives easier. No matter if you're a CTO, IT manager, IT support specialist, or sysadmin - Spiceworks has something for you.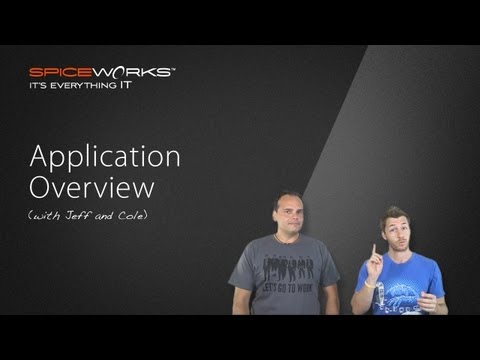 Not sure about Spiceworks? Compare with a popular alternative
Alternatives to Spiceworks
Matthew
Director of IT in US
Nonprofit Organization Management, 11-50 Employees
Used the Software for: 2+ years
Alternatives Considered:
Help Desk Where You Want It
Comments: Starting a new role in the organization that had no Help Desk and no history or structure; Spiceworks proved to be the single biggest one thing that could be done right that would yeild improved IT services to the organization. User responsibility shifted to reporting IT issues using email and overall satisfaction improved and service impacting issues due to weaknesses in infrastructure, bad procedures or mislaid processes were identified by the ticketing system and corrected.
Pros:
I started using Spiceworks in the cloud and then copied the database and importing it to our VM and lost nothing. It is an efficient and easy to use platform. Adding techs and break-fix categories to track what needs to be improved proved to be successful. This allows IT to focus on root cause and then to deploy solutions to prevent the same.
Cons:
The reports need to be streamlined to remove redundancy. Quantity is not always a good thing and by compressing and focusing on key areas the reporting could be a lot better and less fractured.
Steven
IT Support Technician in US
Primary/Secondary Education, 51-200 Employees
Used the Software for: 2+ years
Spiceworks Helpdesk Cloud - Small Enterprise
Comments: We have been able to improve our response time to user issues by appropriately configuring ticket categories, assignment rules. The number of walk-ups to the help desk has been cut by more than 50%, which has permitted our IT support staff to be able to manage their time more efficiently. Our TTR has improved, as well as the level of customer satisfaction within our organization
Pros:
This application is extremely easy to set up and configure. It can be configured as an on-premise application or in the cloud. Administration is managed through a dashboard which permits administrators to manage roles for support personnel to whom tickets will be assigned. Tickets can be automatically assigned to individuals or teams based on configurable categories and ticket rules. There are standard data entry fields included and the administrator can add additional fields as needed. For example, during the Coronavirus pandemic, with everyone working from home, we added a mandatory phone number data entry field to our ticket layout. Data entry fields can be made mandatory if desired. When a ticket is created by a user, the ticket is entered into the system with all of the information provided by the user and the user receives a confirmation email. The ticket will be assigned to the proper support agent or team based on the rules configured within the application. Any replies to that email are automatically added to the ticket with date and time added. Tickets can be easily closed upon completion. Duplicate tickets can be merged into one ticket which helps with management of the ticket queue. The user portal is easily customizable with company name and other options. Users can even attach a screenshot or other file to the ticket to provide useful information beyond the text description of the user problem. Best of all, it can be used for free.
Cons:
Since this is a free IT Help Desk application, it is not nearly as full featured as some other IT Help Desk applications. Reporting is not as robust as some other applications. However, you can easily download information in .csv format and create your own reports if needed.
Patrick
System Admin in US
Computer Software, 11-50 Employees
Used the Software for: 2+ years
Best ticketing system
Comments: This tool has been great for us. It's very user friendly which was better then other ticketing systems we looked at. It's been very beneficial to be able to keep track of our tickets. One huge benefit is the use of the mobile tool to be able to access and our modify the ticket when our users are on call
Pros:
Great tool for ticketing system. Being a small company we used excel to track calls and troubleshooting with customers and we needed a better solution to keep track of all the calls and tickets created. It's been great that we can access this in office and on our mobile device to refer to past notes in a ticket when we are on call. One benefit that we love is adding and modifying fields in the ticketing system to keep track of certain information of the customer
Cons:
Having gone from tracking our own calls manually this has been a huge benefit and we haven't noticed any downsides to using this.
john
IT Consultant in Netherlands
Verified LinkedIn User
Computer Networking, Self Employed
Used the Software for: 2+ years
SpiceWorks Cloud IT helpdesk for free!
Comments: Spiceworks IT Helpdesk Cloud version does everything I want from a cloud based Ticketing system so even though its lacking some features which I hope will get added soon as ive mentioned earlier it does do everything you would expect from a basic IT Support helpdesk ticketing system. So if your looking for a free IT helpdesk solution I would really try out Spiceworks offering and also take a look at there cloud hosted version which I use myself.
Pros:
Spiceworks ive used the community for years now so when I found there IT Helpdesk I started to use it but I then stopped for a while until there cloud IT Helpdesk came out which for me works best as I dont need to worry about hosting anywhere. So now I have a great IT helpdesk for my clients to log tickets with all for free!
Cons:
The only Con to Spiceworks IT Helpdesk was that I was initially released as a windows installer which didnt really work for my business as I dont have my own servers, it wasnt until the Cloud IT helpdesk version came out that I then started to use Spiceworks IT helpdesk again as my client IT helpdesk solution. Its also lacking some features you would see in premium solutions but it does the basics and works for my IT Consultancy business.
Verified Reviewer
Manager, Business Systems in US
Verified LinkedIn User
Wholesale, 201-500 Employees
Used the Software for: 2+ years
SpiceWorks does the job, for free-ninety-nine.
Comments: Prior to SpiceWorks we relied on emails from users with issues, and each IT person might manage those emails in their own way - flagging for followup, marking as unread, subfolders of their inbox, reminders, etc. Issues often were forgotten before being resolved as they moved further down in the IT inbox. We would often work on issues that another IT person already knew the answer to, thus wasting time. Spiceworks has made it so much easier to keep track of issues and their resolutions. IT supervisors can see at a glance if any of their people are struggling, and how quickly issues are resolved. Each ticket is categorized (Phone System, PC Hardware, Network, etc.) so its easy to see if things are getting better or worse. You can reply to a ticket with a suggested solution, categorize it, and close it, all using the "Tickets Anywhere" keywords.
Pros:
It allows us to prioritize tickets, identify recurring problems, and prevent requests from "falling through the cracks". It provides our employees a single email address for getting help without them having to know who in IT does what. It is fairly configurable to meet different needs - we use it for warehouse and logistics issues as well as IT Help Desk. Tickets can be assigned, categorized, closed, etc. using "Tickets Anywhere" keywords when replying to the email so you don't even have to open the site to work tickets.
Cons:
Emails sent to Spiceworks are converted to plain text with attachments, so tables and in-line images are lost. Due to this we sometimes have to ask the user to forward the email directly to us in order to see the original. There is a delay of between 1 and 5 minutes after an email is sent to Spiceworks before the Spiceworks email is received by team members, so we occasionally have more than one person starting to work on a ticket at the same time - especially if the ticket can be resolved simply by replying to the email.