What Is SMS-iT?
SMS-iT is a platform for brands that want to personalize customer engagement, reduce customer attrition & build sales leads with accuracy.
Our main features include:
* 2-way omnichannel messaging - SMS/MMS/RCS/Voice/Fax/Email/Chat
* 100+ Smart Features & Widgets
* A.I.
* Metaverse + Smart Marketing tools
* Smart Database with 1Billion+ opt-in segmented records of potential customers, to use in building your TCPA compliant lists with explicit consent.
Who Uses SMS-iT?
- Service-related businesses with a recurring business model - Web 3.0 firms - Software and Platform business models that require Authentication in their apps - Developers that require our features
Where can SMS-iT be deployed?
Cloud, SaaS, Web-based, Android (Mobile), iPhone (Mobile), iPad (Mobile)
About the vendor
SMS-iT
Phone Support
24/7 (Live rep)
Chat
SMS-iT pricing
Starting Price:
US$25.00/month
SMS-iT offers a free trial. SMS-iT paid version starts at US$25.00/month.
About the vendor
SMS-iT
Phone Support
24/7 (Live rep)
Chat
SMS-iT videos and images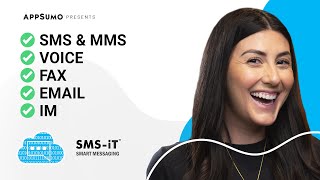 Compare SMS-iT pricing with similar products
Features of SMS-iT
Activity Tracking
Automated Responses
Big Data Analytics
CAN SPAM Compliance
Campaign Management Software
Connectivity Management
Contact Management Software
Customizable Fields
Data Connectors
Data Import/Export
Data Management Software
Device Management
Drag & Drop
Drip Campaigns
Email Campaign Management
Landing Pages/Web Forms
Lead Management Software
Lead Qualification
List Management
MMS
Marketing Automation Software
Mass Texting
Mobile Coupons
Mobile Keywords
Mobile Optimized Emails
Monitoring
Multi-Channel Marketing
ROI Tracking
Reporting/Analytics
Scheduled Messaging
Segmentation
Shortcodes
Social Marketing
Subscriber Management
Template Management
Text-to-Win
Visual Analytics
WYSIWYG Editor
Website Visitor Tracking
Mat K.
Founder in U.S.
Verified LinkedIn User
Marketing & Advertising, Self Employed
Used the Software for: 1-5 months
Hands down the best SMS platform out there
Comments: I've been text marketing for a decade and this platform is my daily go to now
Pros:
What I like most about this platform is the multitude of features it offers. The ability to create sub users is fantastic and the continued improvements to the ease of use have made me a customer for life.
Cons:
The only thing that would make it better would be shorter tutorials that are more "simple" to follow.
Colleen H.
CEO in U.S.
Verified LinkedIn User
Media Production, 2-10 Employees
Used the Software for: 1-5 months
Omnichannel Marketing That's AHEAD of Metaverse, NFT Platform, and Blockchain Trends
Pros:
I did a 20-minute video overview of the items mentioned below that you can view here. [SENSITIVE CONTENT] Current Pros (notwithstanding the future integrations included on the Roadmap): -Onboarding hour-long Zoom call with the Developer. PRICELESS. -SMS-iT is already registered with the FCC: [SENSITIVE CONTENT] -Unlimited International messaging with Tier 3. No brainer. -Piggybacks for free off the Sim Card of my Android. (I have a $5/month plan on my Android phone…see the video overview for details) [SENSITIVE CONTENT] -AppSumo LTD folks get free SMPP Accounts. -Native Zapier and Pabbly integration -Native integration with Dropbox, Shopify, HubSpot, Mailchimp, Salesforce, Slack, DocuSign, WordPress, and Google Calendar -Multiple Merge Tag options and unlimited Keywords. For example: "Hi, %%Name%%! Have you registered for the seminar, yet? I'll be heading to %%City%% next week and you're close. Reply with the word STRESS and I'll get you signed up!" -Text spinner so your bulk texts don't get flagged as SPAM -Appointment calendar, confirmation, cancelation, etc… All automated. -Voice broadcast (just make sure when people sign up they know they may get a call, too!) -Unlimited programable Autoresponders -Unlimted Polls with charts and exportable results -Contests with time limits, entry maximums, automated winners, etc… -Q&A SMS Bots -Dynamic Mobile Cou
Cons:
-Clunky user interface (will be updated in Version 2.0 coming in Q3). -Onboarding is a bit confusing, but schedule a one-on-one and they'll guide you through it. -Ummm…………
André I.
Director in France
Nonprofit Organization Management, 2-10 Employees
Used the Software for: Free Trial
Improvements needed
Pros:
Cost of tool and possibility to use your own cell phone to send the SMS
Cons:
Not user friendly. Many features not really connected to each other.
Verified Reviewer
Director in Malaysia
Verified LinkedIn User
Computer & Network Security, 2-10 Employees
Used the Software for: 1-5 months
SMS-iT a powerful way to get new lead.
Pros:
SMS-iT helps us to develop multi-way communications to reach our new customers.
Cons:
I wish SMS-iT can do drip campaigns using SMS as well
SMS-iT Response
last month
Thank you for your kind review. HOW TO START AND COMPLETE AN AUTOMATED DRIP CAMPAIGN. STEPS: 1) Login to your account 2) Click on Smart Tools at the left main navigation panel 3) Click on AutoResponders 4) Click on Actions (The Blue Button at the Top right of the page) 5) Click on Add AutoResponder 6) Select a Group 7) Add a name for your Auto Responder Choose a Message Template or Mobile Splash Page if you already have one created in SMS-iT. 9) Click on the radio button to select sending either SMS or MMS 10) Click on the Pick File (Red Button), if you wish to send a file as a link in your message. 11) Now for the main Drip Campaign settings. Choose either Days or Hours. This is to send your message either number of days or hours after a subscriber joins your Group with a Keyword, or you upload contacts into the list manually, by using our Import Contact feature. Then add the number of days or hours you want, into the "Send After Signup" field. Enter 0 to send immediately 12. Save
Education Management, 11-50 Employees
Used the Software for: 6-12 months
Best SMS Ever
Comments: The team behing it is fantástic, everything works and the support is great!
Pros:
Everything works. The platform is very advanced with everything you need to send SMS professionally. They have many functionalities that you can use them for many use cases. They update and launch new features very often. The support and the team behind SMS-IT is great.
Cons:
The learning curve is intense and take a bit of time to learn how everything works.
SMS-iT Response
last month
Thank you for your kind review Marcelo. We would strive to only get better, at meeting your needs and wants with more innovative technologies.