What Is Chartmat?
Chartmat provides a powerful, mobile-friendly, and responsive frontend to Google Sheets that lets you build websites using different components such as charts, tables, forms and grids. You can build your app on Chartmat without any coding knowledge required.
Who Uses Chartmat?
Not provided by vendor
Where can Chartmat be deployed?
Cloud-based
On-premise
Chartmat videos and images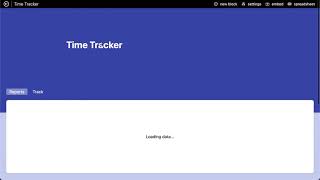 Compare Chartmat pricing with similar products
Features of Chartmat
Deployment Management
Drag & Drop
For No-Code Development
Visual Modeling
Alexis
CEO in Peru
Verified LinkedIn User
Marketing & Advertising, 11-50 Employees
Used the Software for: 1-5 months
Tool to give superpowers to Google Sheet for your business
Comments: I started using Chartmat and was able to create a list of products and statistics in a couple of minutes. The platform works flawlessly. I found Chartmat to be more powerful than other alternatives in terms of features and use cases. I am looking forward to seeing what improvements can be made in the future because now the forms are and their templates are perfect.
Pros:
Ideal for creating beautiful dashboards and charts from spreadsheet data in minutes. I like the variety of templates with beautiful charts. The support is very attentive. They also listen to their users. Data sheets are still private although you can add teammates to edit the dashboards, but not the data.
Cons:
- The user interface could be even better - The Markdown block is not full width. - The frontend site caches, which is good for speed, but does not update new content immediately after refreshing the browser.
Verified Reviewer
Admin in Singapore
Verified LinkedIn User
Broadcast Media, 2-10 Employees
Used the Software for: 1-5 months
Alternatives Considered:
Powerful tool to sit on top for your database
Comments: Overall huge portential for for chartmat to customise your own pages based on google sheets. Hope that more permissions could be added. It would also be much more powerful if it can work with airtables in the future. Overall its a very good product!
Pros:
Ability to create data visualizations, forms and even custom portals / landing page base on your data in google sheets. This have huge potential to become very powerful simillar to softwares like stacker and pory for airtable. Gives you the flexibility of displaying your Google sheets Data . Data sheets also remains private and you can add teammates to edit the boards.
Cons:
1. Need more User detailed permissions , ( VERY IMPORTANT) Permissions for users view/edit at the board level. Example, assign users to only certain boards in a workspace and not the whole workspace, as a workspace may have different departments. 2. A seperate option for the ability to edit the data without the need to sign in or add an account. (Public editing ) 3. Need more powerful relational database intergration besides google sheet . example: airtable.
Verified Reviewer
Software Developer in India
Verified LinkedIn User
Computer Software, 10,000+ Employees
Used the Software for: 1-5 months
This application provides steroids to data stored in google sheets.
Comments: Overall, working with Chartmat has been a great journey. I am glad that I found this application. It has helped me a lot in creating visualizations and forms for business metrics. Moreover, it has helped me to create reports from basic google sheets too.
Pros:
We mainly used google sheets to store financial information and sales records of our unit. Going through several lines of excel did not help in getting better insights. Hence we looked for an application that would power up the data stored in our sheets. We started using chartmat, and with its visualization and analysis features, tracking down crucial business metrics became easier. The UI was pretty easy to use which was a plus point for someone like me who was not good at using sheets.
Cons:
The application works pretty well with a reasonable amount of data, but when we started loading sheets with tons of data in them, it became a little sluggish. The filters also became inefficient in finding their way through large sums of data points.
Verified Reviewer
Senior Content Writer in India
Verified LinkedIn User
Information Technology & Services, 501-1,000 Employees
Used the Software for: 1-5 months
Amazing Platform for Users having data on google sheet
Comments: Quite happy till now to use this tool
Pros:
I am a user using this product for the past 6 months and the best part is I have all the data on google drive. This software read and give me nice graphs which help me to understand my business where it is going. Also, its value to money as compared to other BI tools available in the market since we need to purchase other tools as well to transform the data into readable way and use it which involves a lot of costs
Cons:
Till now nothing figure out to say as a con. Simple+Drag and drop+Value to money+Nice charts
Gilberto
Research Consultant in Dominican Republic
Research, 2-10 Employees
Used the Software for: 1-5 months
Chartmat is a great tool for Sharing and Visualizing Polls and Survey Results
Comments: I had been looking and trying out Apps looking fora system like Chartmat with a simple Graphic User Interface and learning curve that I could send and share online with my clients (which are not scientists) the final results of their research. Since most of my research are monthly tracking of variations with the same set of variables, Chartmat has allowed me to only update the worksheet and they can check directly their monthly results online.
Pros:
Simple setup of charts and boards from Google Sheet data Realtime dynamic graphing updates by modifying data in linked worksheet Easy Sharing procedure with clients and team Different access categories and levels of permissions for viewing and modifications
Cons:
Even though the Apps work fine with any email, the login and sharing process is streamlined using Gmail accounts. The others Cons of Filters and Custom Domians have already been announced as future roadmap releases.