15 years helping Canadian businesses
choose better software
What Is LiveAgent?
LiveAgent is a cloud-based Help Desk Software with over 200+ compatible integrations.
Streamline all customer communication channels and manage them from a single shared company inbox.
Enjoy social media integration, unlimited ticket history, call recordings, hybrid ticket streams, and more.
Companies like BMW, Yamaha, Huawei, Orange, or Forbesfone use LiveAgent to deliver customer wow to 150M end-users worldwide.
Start with a 1 month free trial, no credit card required, no contracts.
Who Uses LiveAgent?
Wide range of Small & Medium Sized businesses in eCommerce, Telco, Insurance, SaaS, Startups & Enterprise.
Where can LiveAgent be deployed?
Cloud-based
On-premise
---
About the vendor
QualityUnit
Founded in 2004
LiveAgent support
Phone Support
24/7 (Live rep)
Chat
LiveAgent pricing
Starting Price:
US$9.00/month
Yes, has free trial
Yes, has free version
LiveAgent has a free version and offers a free trial. LiveAgent paid version starts at US$9.00/month.
Pricing plans
get a free trial
About the vendor
QualityUnit
Founded in 2004
LiveAgent support
Phone Support
24/7 (Live rep)
Chat
LiveAgent videos and images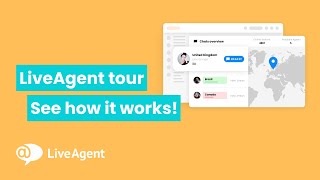 Features of LiveAgent
Access Controls/Permissions
Account Management Software
Activity Dashboard
Activity Tracking
Agent Interface
Alerts/Escalation
Alerts/Notifications
Analytics
Archiving & Retention
Assignment Management
Auto-Responders
Automated Routing
Automatic Call Distribution
CMDB Software
CRM Software
Call Center Management
Call Logging
Call Monitoring
Call Recording Software
Call Reporting
Call Routing
Call Scripting
Call Transfer
Callback Scheduling
Caller ID
Caller Profiles
Campaign Management Software
Cataloging/Categorization
Change Management Software
Chat/Messaging
Client Management
Client Portal
Collaboration Tools
Commenting/Notes
Communication Management
Computer Telephony Integration
Contact Database
Contact Management Software
Content Management System (CMS) Software
Customer Communication
Customer Complaint Tracking
Customer Database
Customer Engagement Software
Customer Experience Management
Customer History
Customer Segmentation
Customer Social Profiles
Customer Support Software
Customizable Branding
Customizable Forms
Customizable Reports
Customizable Templates
Dashboard Software
Discussions/Forums
Email Management Software
Email Tracking Software
Event Triggered Actions
Feedback Management
File Management
File Sharing Software
File Transfer
For Startups
Forms Management
Full Text Search
Geotargeting
IT Asset Management Software
IVR/Voice Recognition
Inbox Management
Incident Management Software
Interaction Tracking
Issue Tracking Software
Knowledge Base Management
Knowledge Management Software
Lead Management Software
Live Chat Software
Macros/Templated Responses
Mobile Access
Multi-Channel Communication
Multi-Channel Data Collection
Multi-Language
Multiple Scripts
Multiple User Accounts
Negative Feedback Management
Offline Form
On-Demand Recording
Onboarding Software
Performance Metrics
Personalization Software
Phone Key Input
Prioritization
Proactive Chat
Quality Management Software
Queue Management
Real Time Notifications
Real-time Consumer-facing Chat
Recording
Remote Access/Control
Remote Support Software
Reporting & Statistics
Reporting/Analytics
Response Management
Routing
Search/Filter
Self Service Portal
Service Level Agreement (SLA) Management
Shared Inboxes
Social Media Integration
Social Media Monitoring Software
Softphone Software
Support Ticket Management
Survey/Poll Management
Surveys & Feedback
Tagging
Task Management Software
Template Management
Text Editing
Text to Speech
Third Party Integrations
Ticket Management
Transcripts/Chat History
Transfers/Routing
Two-Way Audio & Video
Usage Tracking/Analytics
Video Chat
Video Conferencing Software
VoIP Connection
VoIP Software
Voice Customization
Voice Mail
Widgets
Workflow Configuration
Workflow Management Software
Alternatives to LiveAgent
Matthew
Director Of Marketing And Advertising in US
Verified LinkedIn User
Internet, 10,000+ Employees
Used the Software for: 6-12 months
Reviewer Source
I really recommend LiveAgent.
Comments: We've learned a lot about how to cultivate consistent support through our efforts to increase external communication across departments. Using LiveAgent, we can respond more quickly to consumer questions and deliver greater chat service at all hours of the day. Using chat, email, and push notifications, LiveAgent allows businesses and their consumers to communicate in real time. As a result, organizations may see an uptick in income, customer satisfaction, and the quality of their client connections. I was able to provide superior service to my clientele, despite having just limited access to group chat, because of this tool. It has been quite beneficial to me.
Pros:
With LiveAgent, I can manage all of my live chat assistance for clients from a single, centralized location. Restoring two-way communication with each consumer has been essential. The help desk staff is noted for their expertise in fine-tuning the software's many configurations. With LiveAgent, customers may have an instant conversation with a support representative to receive answers to their questions and issues resolved. Timely and relevant replies from LiveAgent have the potential to increase customer satisfaction and improve the quality of the service received as a whole. When consumers are happy, they are more inclined to come back and tell others about their experience.
Cons:
While a dedicated account manager would be ideal, we have found that using the website's chat function to resolve issues is quick and painless.
QualityUnit Response
2 months ago
Hello Matthew, we appreciate your insightful review. It's nice to see how you value our centralized live chat assistance. The ability to provide instant responses and build strong relationships with your clients is at the core of LiveAgent. We're also very pleased that LiveAgent has shaped your approach to support, boosting overall client satisfaction and connection. These are earnest results we strive for! Thanks again for choosing LiveAgent. Keep rocking that customer satisfaction! - LiveAgent Team
Sai
Sales And Marketing Specialist in UK
Information Technology & Services, 2–10 Employees
Used the Software for: 1+ year
Reviewer Source
Full-featured, All-in-one and powerful live-chat support platform.
Comments: My user experience is definitely great. I really like how this tool handles multiple business communication, including email, live chat, and social media on one single place. This allows us to provide excellent customer support service.
Pros:
LiveAgent has been one of the most crucial and powerful tools we've been been using to boost our customers relationship and our ROI oflate. I really love how this tool is very user-friendly and easy-to-use generally for any one with or without any tech-savvy experience. The support is one of the most standout and highly effective thing with LiveAgent because they're very user-friendly and responsive 24/7. Using LiveAgent we've been able to increase our productivity and relationship with our customers and hence we've been able to meet most of their needs on time through the help of our support team.Through real-time live chat we've been able to attend to our customers queries on time and resolve a lot of problems on time rather than opening tickets which would take time. For this tool is a game changer and improve productivity of the service agents has been also added advantage.
Cons:
The only thing I should LiveAgent should consider is adding more integration options. Nevertheless everything else is great and moving on well.
QualityUnit Response
2 months ago
Hey Sai, Thanks for your thorough review. It's great you find LiveAgent crucial in boosting customer relationships and ROI. Our aim remains to be user-friendly and provide responsive, round-the-clock support. We're all about productivity enhancements and real-time problem resolutions to keep those customer relationships strong! Your note about more integration options is heard and appreciated. Switching to us from Freshdesk because of our cost-effectiveness and features truly validates our work. Making sure you have a great user experience while handling multiple business communications in one place is what we strive for. Many thanks once again, - LiveAgent Team
Alberto
Operations Director in Spain
Marketing & Advertising, 11–50 Employees
Used the Software for: 2+ years
Reviewer Source
Source: SoftwareAdvice
Mediocre lifecycle management
Comments: It has been from more to less. In the last 3 years has barely evolved (if not regressed), not being anymore a market leader. If I still haven't changed is due to all integration I have already done with the app.
Pros:
It's a really useful omnichannel tool, which requires mid-size effort to configure and obtain an inmediate profit.
Cons:
Development and support are on their own. They add/ change / delete functionalities without further notice. It's quite frustrating when a given morning your agents tell you that something you have been using for years is not working and when you reach support team responds saying that this feature never existed, as you are idiots. This issue could be easily solved if product team would submit a regular/weekly email with the content of the product roadmap, so teams can addapt in advance their operation to deleted/changed/added functionalities.
Alternatives Considered: Zoho Desk and Zendesk Suite
Reasons for Switching to LiveAgent: price affordable and worthy features
QualityUnit Response
2 years ago
Hello Alberto, thank you very much for your honest review. We are happy to see that you find LiveAgent a useful omnichannel tool but at the same time, we are also very sad to hear about your negative experience. We are gathering the suggestions and features requested from our customers plus we have some internal initiatives to keep the growth of our solution. Recently we have been slowed down by a code refactoring that cannot be seen by users as an immediate improvement, but it's very important in a long term. All the changes can be found here in our changelog -> https://dev.ladesk.com/ and also in our blog post here -> https://www.liveagent.com/blog/news/ which is highlighting the most significant changes. Anyways, I will pass your feedback about the potential improvement of sharing the details about upcoming changes to our manager. I am again very sorry if there has been any change that caused you any inconvenience.
Amanuel
Senior Graphic Designer in US
Information Technology & Services, 2–10 Employees
Used the Software for: 1+ year
Reviewer Source
LiveAgent has greatly reduced support and ticketing time hence saving time and cost.
Comments: My user experience has been very phenomenal especially how the customer efficient and proactive towards our customers. This tool has greatly reduced support and ticketing time.
Pros:
LiveAgent has been absolutely a game changing support platform that is very user-friendly and easy to use generally for all our staff in my organisation. This tool has been able to provide the best support services to all our clients hence making this tool great customer options, with real-time chat features that enables us to communicate and resolve issues for our customers easily and efficiently while saving a lot of hours.I have used lots of support system but LiveAgent is far beyond magical and very user-friendly and cost effective. I like that I am able to send chat invites to users while on my website. I like the UI which is great and intuitive simplifies the onboarding process for the new users.Support team is magnificent and beyond magical experience. They're very user-friendly and responsive 24/7. They help our customer support team to be professional and to provide great support to all our clients and customers. This helps us to maintain a great relationship with our customers.
Cons:
For my small organisation sometimes when working under tight budget it's a bit disastrous because the price of LiveAgent is not that pocket friendly. Nevertheless this tool is great and has been so productive.
QualityUnit Response
2 months ago
Hello Amanuel, Thank you for your amazing review of LiveAgent! We're thrilled to hear that you find our software to be a great tool for your company. If you need any assistance with the software, please feel free to reach out to us. We are always happy to help. :) - LiveAgent Team
Gary
Human Resources Manager in US
Verified LinkedIn User
Information Technology & Services, 10,000+ Employees
Used the Software for: 2+ years
Reviewer Source
I think LiveAgent is fantastic software
Comments: Every company needs the ideal thing, which is to treat every email as a ticket. If a client does not respond to my follow-up email within three days (thanks to a rule I set up in Los Angeles), a new ticket is opened and I am prompted to contact them again. Such follow-ups should never be sent from regular email accounts since doing so requires excessive monitoring.
Pros:
Thanks to LiveAgent, I never have to leave the app to check my Gmail or Yahoo Mail inboxes again. As a marketing professional, I have access to a plethora of email accounts, and I've lost several business opportunities due to my own laziness in checking my inbox. With their "Unlimited Email Accounts" function, LiveAgent scores major points. To make things easier, I included my LA-based email address.
Cons:
If you use LiveAgent as your email client, you won't notice any "unread" messages when you check your inbox. But that's not a major problem.
QualityUnit Response
last month
Hello Gary! Your mention of the "Unlimited Email Accounts" function being a game-changer clearly echoed with us. Ah, tackling the labyrinth of multiple email accounts can be quite a chore, can't it? :) You're right, the charm of LiveAgent is being a one-stop solution for all communication needs, whether it's social inboxes or live chats. And we can tell you're a power user, setting up a rule to remind you of pending follow-ups. Nifty, isn't it? To comment on your minor hiccup: all incoming messages in LiveAgent are treated as "unread" until specifically handled. We believe every message deserves undivided attention! Keep exploring the tool, Gary. We strive to tick all the boxes for our users. Your feedback helps us refine our software and bridging more gaps in customer service. Thank you for being an awesome part of our journey! - LiveAgent Team