What Is LiveAgent?
LiveAgent is a cloud-based Help Desk Software with over 200+ compatible integrations.
Streamline all customer communication channels and manage them from a single shared company inbox.
Enjoy social media integration, unlimited ticket history, call recordings, hybrid ticket streams, and more.
Companies like BMW, Yamaha, Huawei, Orange, or Forbesfone use LiveAgent to deliver customer wow to 150M end-users worldwide.
Start with a 14-day free trial, no credit card required, no contracts.
Who Uses LiveAgent?
Wide range of Small & Medium Sized businesses in eCommerce, Telco, Insurance, SaaS, Startups & Enterprise.
Where can LiveAgent be deployed?
Cloud-based
On-premise
---
About the vendor
QualityUnit
Founded in 2004
LiveAgent support
Phone Support
24/7 (Live rep)
Chat
LiveAgent pricing
Starting Price:
US$15.00/month
Yes, has free trial
Yes, has free version
LiveAgent has a free version and offers a free trial. LiveAgent paid version starts at US$15.00/month.
Pricing plans
get a free trial
About the vendor
QualityUnit
Founded in 2004
LiveAgent support
Phone Support
24/7 (Live rep)
Chat
LiveAgent videos and images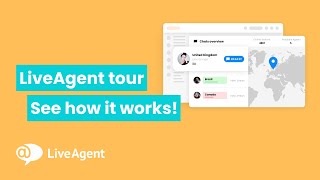 Features of LiveAgent
Access Controls/Permissions
Account Management Software
Activity Dashboard
Activity Tracking
Agent Interface
Alerts / Escalation
Alerts/Notifications
Appointment Management
Archiving & Retention
Assignment Management
Auto-Responders
Automated Routing
Automatic Call Distribution
CMDB Software
CRM Software
Call Center Management
Call Logging
Call Monitoring
Call Recording Software
Call Routing
Call Scripting
Call Transfer
Callback Scheduling
Caller ID
Caller Profiles
Campaign Management Software
Cataloging/Categorization
Change Management Software
Chat/Messaging
Client Management
Client Portal
Collaboration Tools
Commenting/Notes
Communication Management
Computer Telephony Integration
Contact Database
Contact Management Software
Content Management System (CMS) Software
Customer Complaint Tracking
Customer Database
Customer Engagement Software
Customer Experience Management
Customer History
Customer Segmentation
Customer Social Profiles
Customer Support Software
Customizable Branding
Customizable Forms
Customizable Reports
Customizable Templates
Dashboard Software
Discussions / Forums
Email Management Software
Email Tracking Software
Event Triggered Actions
Feedback Management
File Management
File Sharing Software
For Startups
Forms Management
Full Text Search
Geotargeting
IT Asset Management Software
IVR / Voice Recognition
Inbox Management
Interaction Tracking
Issue Tracking Software
Knowledge Base Management
Knowledge Management Software
Lead Management Software
Live Chat Software
Macros/Templated Responses
Mobile Access
Multi-Channel Communication
Multi-Language
Multiple Scripts
Multiple User Accounts
Negative Feedback Management
Offline Form
On-Demand Recording
Onboarding Software
Performance Metrics
Personalization Software
Phone Key Input
Prioritization
Proactive Chat
Queue Management
Real-time Consumer-facing Chat
Recording
Remote Access/Control
Remote Support Software
Reporting & Statistics
Reporting/Analytics
Response Management
Routing
Search/Filter
Self Service Portal
Service Level Agreement (SLA) Management
Social Media Integration
Social Media Monitoring Software
Softphone Software
Support Ticket Management
Survey/Poll Management
Surveys & Feedback
Tagging
Task Management Software
Template Management
Text Editing
Text to Speech
Third Party Integrations
Ticket Management
Transcripts/Chat History
Transfers/Routing
Usage Tracking/Analytics
Video Chat
Video Conferencing Software
VoIP Connection
Voice Customization
Voice Mail
Website Visitor Tracking
Widgets
Workflow Configuration
Workflow Management Software
Alternatives to LiveAgent
Sarah
System Administrator in US
Verified LinkedIn User
Information Technology & Services, 10,000+ Employees
Used the Software for: 2+ years
LiveAgent is professional for agent and customer
Comments: It's excellent that customers may leave a note or utilize the knowledgebase to solve issues when agents are unavailable (for example, outside of business hours). It's great that many people may work on a ticket at once, and we can all see who's working on what and how they've responded.
Pros:
Just do it! Superb assistance, interesting and expertly presented content, and a thoroughly professional demeanor throughout. Because of how user-friendly it is for salespeople and consumers alike, our business has no plans to switch providers. Many customers have been helped by a live person who answered their concerns or resolved their issues immediately, eliminating the need for them to wait on hold.
Cons:
It's not like I love the pause button or anything. I'd rather have the option of setting an away status that sends a busy signal to the customer while I take a quick break for whatever reason (comfort, food, etc.). However, the IT assistance is excellent, and while I agree that some features, like scheduling store hours, are overly difficult, I appreciate the effort.
QualityUnit Response
6 months ago
Hello Sarah, thank you very much for your amazing review! We appreciate you sharing your feedback with us and we are thrilled to see you satisfied with our solution not planning to switch to any other provider. Feel free to send us more details about how exactly you imagine the feature of setting an away status via chats on our website and we will be happy to report it to our developers for our future improvement. Until then, you can put yourself on pause at any time so that no chats/calls would ring to you and your colleagues could also see that you are currently on a pause. You can also reach us via email at [email protected] at any time! :)
Shayla
Human Resources Specialist in US
Verified LinkedIn User
Internet, 1,001-5,000 Employees
Used the Software for: 2+ years
Great customer service and simple ticketing software
Comments: If you are thinking about using LiveAgent, one piece of advise I can give you is to spend some time figuring out how to use the tools that it provides. For some of them, it isn't exactly obvious how to do it, but if you put in the effort to figure it out, you'll find that the service is more than worth it.
Pros:
I really like the platform, since it is really simple to operate and I can thus practice my customer support agents on it. The platform has a wide variety of appealing features, some of which are detailed in the following list: The ability to share a mailbox, improved lead capture and engagement, heightened efficiency, outstanding value for the money, and a great deal of additional benefits are also included.
Cons:
Only the most expensive tier, which often comes with numerous features and options that you might not want, offers a link to social media; however, if you wish to add any of these features à la carte, doing so will be expensive on its own.
QualityUnit Response
6 months ago
Hello Shayla! Thank you very much for giving us 5-stars :) We are always glad to see that LiveAgent is helping our customers save time, increase productivity and manage their customer communications better. For any inquiry regarding functions or integrations that might further improve your experience, feel free to reach out to our 24/7 support. - LiveAgent Team
Dave
President in Canada
Verified LinkedIn User
E-Learning, Self Employed
Used the Software for: 2+ years
Excellent Support for My Customers With Room to Grow
Comments: This a significant improvement over our previous help desk application. I am able to track and quickly resolve all customer issues. It just works the way it should. Our previous vendor kept changing elements of the software interface which only served to slow down our work because we had to learn how the interface was changing.
Pros:
Easy to set-up and manage. Provides all my support requirements in a simple to track dashboard of customer touch points.
Cons:
I have had occasional issues with email notifications stopping. Rare and quickly resolved with tech support in all cases.
Alternatives Considered: SherpaDesk and Spiceworks
Reasons for Choosing LiveAgent: Better features in Live Agent. Room to expand. And we were frustrated with Teamviewer getting in our way more times that necessary.
Switched From: TeamViewer
Reasons for Switching to LiveAgent: Price and features
QualityUnit Response
9 months ago
Hi Dave! Happy to see LiveAgent is an improvement for resolving your customer service issues :) - LiveAgent Team
Nitin
Senior Graphics Designer in India
Verified LinkedIn User
Information Technology & Services, 5,001-10,000 Employees
Used the Software for: 6-12 months
Easy and helpful tool only for live chat services or live customer support
Comments: Even with lots of features bad support system might make this application little annoying. Overall Liveagent is easy to use helpdesk that tracks everything in real time. Comparably affordable, easy to deploy and if they add custom support email for every agent then this tool is best in class.
Pros:
Lots of helpful features among which one that helps SEO of our website. I have heard lot from other companions about this brand and that made me recommend this to my team. Its again easy to deploy tool like many of the new tools but you don't need to entirely change your website structure code to implement this and that inclined us towards LiveAgent. One more thing that highlighted while we I was on trial that it had a video chatting service that definitely solved many internal issues with customers.
Cons:
LiveAgent should work on their interface as its not much easy for non technical person. Lots of other application even if they lack features but they are easy to use. Their support hangs many times and I need to wait half or 1 hour to get a support from their team regarding any issues and that's sometimes annoying.
Alternatives Considered: tawk.to
Reasons for Switching to LiveAgent: Tawk.to is basic chat tool and had lots of bugs in their initial release. I got reviews from my other companions about live agent and I have started using it and comparably liveagent was much better than tawk.to.
QualityUnit Response
10 months ago
Hello Nitin! Thank you for your review. We're glad to see that you are happy with the product. As for our Customer Service, it is very unusual that you will be waiting for that long. Could you please share with us your ticket number on [email protected] and we'll look into it. - LiveAgent Team
Alfredo
Director in Panama
Verified LinkedIn User
Information Technology & Services, 2-10 Employees
Used the Software for: 2+ years
Huge platform with many possibilties.
Comments: I have been using LiveAgent for a couple years and find it an excellent choice, you will be able to easily keep tabs on clients. If you work with a team it brings many gamification badges and all kinds of professional ticket routing features. It also includes many reporting features which are important to keep tabs on how your team and clients are working. LiveAgent also includes many automation possibilities through both no-code SaaS such as Zapier and their own API/Webhooks and Rules automations.
Pros:
I mostly use LiveAgent to keep email tickets for my support contracts. However I can see the huge potential it brings as a full-fledged, omni-channel helpdesk platform. LiveAgent will let you pick and choose which features you use. For example, you can use their live-chat widgets, or you can connect a voice ip line to take calls. It can even handle contact forms. In any case, client information will be readily available for a better support experience.
Cons:
As functional as the web platform is, they are a bit stagnant on modern working life. For example, logging into two browsers will close the session on one side, and their mobile App on iOS doesn't send notifications if you are AFK on your computer. The app is not very friendly. Knowledge base pricing seems a bit high for what I believe is a very simple feature.
QualityUnit Response
2 years ago
Hi Alfredo :) thanks a lot for your kind and honest feedback! We are thrilled to have you with us. We want to be the best on the market and our team is taking notes of any suggestions for improvement via chats on our website or via email at [email protected]