15 years helping Canadian businesses
choose better software
What Is Accord LMS?
Accord LMS has the advanced features and support team needed to help you run large scale extended enterprise training programs at a fair price. Smart features automate repetitive administration tasks. Unlimited Learning Roles provide each user with a tailored learning experience based on their unique needs. Easy course assembly with quiz and survey authoring supports compelling learning experiences using SCORM, video, online documents, live classes and more. Schedule a free demo today.
Who Uses Accord LMS?
Accord serves Clients who manage training for staff, customers, or diverse learner cohorts. Accords flexible features, smart automation and robust support appeal to growing enterprises.
Where can Accord LMS be deployed?
Cloud-based
On-premise
---
About the vendor
Accord LMS
Located in Boise, US
Founded in 1996
Accord LMS support
Phone Support
24/7 (Live rep)
Chat
Countries available
Australia, Canada, United States
Accord LMS pricing
Starting Price:
US$0.90/month
Yes, has free trial
No free version
Accord LMS does not have a free version but does offer a free trial. Accord LMS paid version starts at US$0.90/month.
Pricing plans
get a free trial
About the vendor
Accord LMS
Located in Boise, US
Founded in 1996
Accord LMS support
Phone Support
24/7 (Live rep)
Chat
Countries available
Australia, Canada, United States
Accord LMS videos and images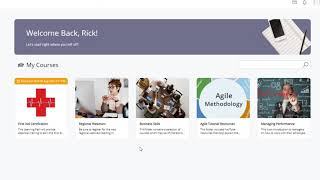 Features of Accord LMS
Activity Dashboard
Alerts/Notifications
Asynchronous Learning
Blended Learning
Built-in Course Authoring
Certification & Licensing
Compliance Tracking
Content Library
Content Management System (CMS) Software
Course Authoring Software
Course Management
Course Tracking
Customizable Branding
Employee Profiles
For Nonprofits
Gamification Software
Learner Portal
Learning Management
Learning Paths/Tracks
Mobile Learning Software
Reporting/Analytics
SCORM Compliance
Social Learning
Synchronous Learning
Tests/Assessments
Third Party Integrations
Training Administration
Virtual Classroom Software
Alternatives to Accord LMS
Marie
Verified LinkedIn User
Used the Software for: 6-12 months
Reviewer Source
Source: GetApp
Accord ranks #1 in support, price, and functionality!
Comments: My company first began our investigation into various Learning Management Systems a little over a year ago. After an initial introduction to Accord through Capterra, we quickly narrowed down our selections. Accord LMS remained our number one choice until we were ready to finalize the purchase. Though this was a lengthy process on my own company's end (approx. 12 months), our representative Mary Beth was nothing short of amazing as she remained patient, supportive, and enthusiastic. Mary Beth was always on hand to provide updates, answer questions, and consistently connect us to Solutions Engineers to provide insight into features of Accord that best benefited our company. We have been using Accord now for 6 months and have no complaints. Accord ranks #1 in support, price, and functionality in the world of LMS! Many thanks for the continued support!
Pros:
Since we are utilizing Accord to connect various independent distributors, Accord's ability to provide Admin capabilities for over 40+ individuals is unmatched. The organization of levels of employees, as well as automatic reports sent to management is easy to understand and extremely effective.
Cons:
Thus far, nothing to report
Computer Software
Used the Software for: 2+ years
Reviewer Source
Source: SoftwareAdvice
Accord LMS: Flexible, Valuable and Reliable.
Pros:
Our client company licensed the Accord LMS several years ago to train temporary employees. The courses we implemented guide the employees to understand the business model, consider specific aspects of their new role, and train them to interact with the business system. Some of the content in the courses is confidential, and the Accord implementation helps to limit access to that content by limiting enrollment based on security roles. Courses are designed using the SCORM standard, which allows course development to be done independent of the LMS. The courses have loaded and interacted with Accord very well, correctly reporting quiz scores and completion status. Accord has been a very stabile product, requiring very little administrative attention. Our version of the product has a limit on the number of active learners, so we have had to monitor our usage and either limit the number of learners or adjust the license to fit our needs. We have directed several special requests to the sales department with regard to licensing, and each time they have accommodated our needs. We have found them a good partner to work with. We have kept the software on a maintenance contract throughout, and have generally found this to be a good value. While service requests have been minimal, there have been some key times during software upgrades where we have placed service requests. These were answered quickly and our issues were resolved. The cost of the maintenance contract has increased sharply, and this has caused us some concern. In summary, we have found the Accord LMS system to be flexible, valuable and reliable.
Cons:
We were recently surprised by a significant increase in the maintenance contract cost.
Accord LMS Response
7 years ago
Thank you for taking the time to write such a thorough review. I'll pass your comments onto the entire team. Our price increase in January 2016 was the first in 4 years. For our hosted accounts, which include maintenance, it was only a modest increase. Our self-hosted customers did experience a more substantial increase. This reflects the additional support requirements that factor into most on-premise installations such as client server access, configuration, updates, etc. This may be why most of our competitors do not offer self hosted systems. I'm confident that you will still find the Accord LMS to be the best deal around.
Riyaz
Global Director of Training in US
Computer Software, 501–1,000 Employees
Used the Software for: 2+ years
Reviewer Source
Accord LMS - Minor league player trying to play in the majors.
Comments: We inherited Accord LMS when we merged with our sister company. Even though we asked, we never received the onboarding experience you would normally get when implementing a new system. Accord LMS worked for our employees and customers however, the experience did not keep up with end-user expectations.
Pros:
An excellent account management team who responds to all queries and concerns as needed. The product works reasonably well, especially if you don't need any fancy design changes.
Cons:
Customization requires professional services or knowledge of DNN. Not much documentation or assistance from the company. User management, reporting, and course management work until you want in-depth functionality that most other systems have - out of the box.
Accord LMS Response
3 years ago
Hi Riyaz, Thanks for your feedback. We genuinely appreciate it. Your positive review of our account management team reflects the feedback we get from most clients. We think that they're the best. Your feedback on our documentation was insightful. We are currently in the process of updating our online manuals and dozens of support and training videos to be both easier to follow and more integrated with the product itself. I'm sorry that you weren't able to get all of the customizations that you were looking for. As an LCMS, the Accord solution is among the most configurable platforms available, but some things can be more challenging or even out of the system's scope. It's our goal to provide our clients with the best LMS experience for their unique needs. It sounds like we might not have remained the right fit for you after your mergers. We hope that you found the best solution for your training priorities. Thanks again, Accord Product Team
Kudzai
LMS Administrator in Zimbabwe
Verified LinkedIn User
E-Learning, 2–10 Employees
Used the Software for: 6-12 months
Reviewer Source
Accord LMS - Administrator review
Comments: In-house training has significantly improved as well as for our external clients. Overall performance is good. Functionality is almost perfect. UI needs to be updated.
Pros:
The software is packed with features and functionality. It supports a lot of files formats for both documents and video. Integration with GoToMeeting, GoToTraining, and GoToWebinar is a worthy addition. It would be nice to have Zooma as an option. Integration is seamless depending on the configuration you choose. Support is 24/7 but responds in a timely manner. The quiz builder caters to more question types than the usual offerings.
Cons:
The UI looks antiquated for 2021. It needs a major overhaul. The support documentation needs to be updated as well. Some of the features have been upgraded or changed but the documentation is lagging behind. As a user, organizing files in a playlist style with the next video or document ready to play is useful yet it is missing. A pop-up window opens when using a desktop and it is a bit annoying. The landing page needs improvement with regard to styling.
Primary/Secondary Education
Used the Software for: 1+ year
Reviewer Source
Source: SoftwareAdvice
Review of Accord LMS
Pros:
AccordLMS provides all of the expected LMS capabilities. The installation and upgrade of this product is simple. The administration is easy, customization is good, and the customer service is excellent. The eCommerce piece is robust and the system allows for multiple portals sharing courses from master to child. The system allows for free access (such as for internal training) as well as purchased access (for external sales, either individual or subscription).
Cons:
One client that I worked with had too many sub-folders for their courses, and this caused performance issues (this may have been addressed in latest release). Also, if you need detailed quiz reporting (down to the individual question and answer level) you must build your assessments with Articulate, as AccordLMS has custom code to extract their reporting details.
Accord LMS Response
8 years ago
The Accord provides detailed quiz reporting for ALL assessments that provide the information, not just those authored with Articulate. Some assessments, from other authoring tools, do not provide detailed quiz information which makes it impossible for the LMS to report it. Concerning sub-folders, our current version is supporting clients with over 10,000 courses and sub-folders with excellent performance.