What Is FaceUp?
FaceUp is a comprehensive whistleblowing platform, ethics hotline and HR. The software has a rich set of features including a customizable reporting form and advanced report management, both available in 113 languages. It is GDPR compliant and ISO 27001 certified.
FaceUp is compliant with the EU Whistleblowing Direction and Whistleblower Protection Act. It's trusted by 2,700 organizations of all sizes across the world.
Try out FaceUp with a 14 day free trial. It can be set up within 5 minutes.
Who Uses FaceUp?
Not provided by vendor
Where can FaceUp be deployed?
Cloud-based
On-premise
FaceUp pricing
Starting Price:
US$69.00/month
Yes, has free trial
No free version
FaceUp does not have a free version but does offer a free trial. FaceUp paid version starts at US$69.00/month.
Pricing plans
get a free trial
FaceUp videos and images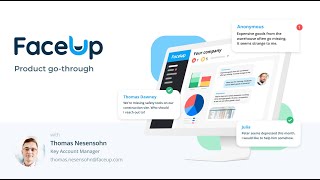 Features of FaceUp
API
Access Controls/Permissions
Activity Dashboard
Alerts/Notifications
Anonymous Feedback
Case Management Software
Chat/Messaging
Communication Management
Compliance Management
Customizable Reports
Customizable Templates
Data Import/Export
Forms Management
Incident Management Software
Incident Reporting
Investigation Management Software
Mobile Access
Process/Workflow Automation
Real-time Updates
Reminders
Reporting & Statistics
Reporting/Analytics
Building Materials, 1,001-5,000 Employees
Used the Software for: 1-5 months
The perfect platform to maintain a safe work environment
Comments: The platform is intuitive for both users and administrators and the FaceUp team's overall attitude and willingness to customize the features according to our needs is definitely worth mentioning as well.
Pros:
FaceUp helps us to ensure and maintain friendly corporate culture through allowing our employees to express any possible concerns. Employees can also stay anonymous during the reporting process, so no one ever has to be afraid to speak up.
Cons:
The app and website both work perfectly, although it could be beneficial to have an offline version for when employees don't have internet access.
Alternatives Considered: Whispli
Reasons for Switching to FaceUp: Same key features for much less money
Hospital & Health Care, 201-500 Employees
Used the Software for: 1+ year
Easy & well-structured communication platform
Comments: The biggest benefit is the simplicity of having everything in one place, while well organized. FaceUp has a lot of features that make everything even easier for us, such as dashboards which show us the bigger picture about the current atmosphere within the company.
Pros:
It's really easy to send a report through FaceUp, and it's easy to navigate the administration, especially since we can have the reports sorted by different topics. The process is completely smooth.
Cons:
Despite our concerns, our employees have reacted well to FaceUp so far. We're mostly receiving positive feedback.
Machinery, 501-1,000 Employees
Used the Software for: 1-5 months
Whistleblowing system in a midsize multinational
Comments: Very positive
Pros:
The system is very user- and administrator-friendly, allows easy case management. The system is available in all languages necessary. Allows for integration of reports filled through different channels (such as in person or on paper). Supporting documents provided - awareness material, QR code... Very favourable pricing.
Cons:
Nothing, we are happy with all features and would not suggest any changes.
Alternatives Considered: PetroScope
Reasons for Switching to FaceUp: Easier to use, better features, significantly more attractive pricing
Andrea
Deputy Principal in South Africa
Education Management, 51-200 Employees
Used the Software for: 1+ year
Satisfied
Comments: It has been very productive.
Pros:
I like the anonymity. I really like the platform. The students feel safe to communicate with me on the platform.
Cons:
I have no complaints. I feel that this has been beneficial for the school.
Anna
Consultant in Czechia
Law Practice, 11-50 Employees
Used the Software for: 1+ year
Solves all legal requirements
Comments: We work with a variety of different companies with unique requirements, but luckily FaceUp meets them all thanks to its customizability. Many of its features are also unique in this market and other solutions lack them.
Pros:
It is compliant with GDPR, protection of whistleblowers and the highest security standards. Moreover, thanks to its possibility to serve as both an internal and external channel, it is also compliant with the new proposed EU Whistleblower Directive. For these reasons we can recommend this platform as a legal solution for any company.
Cons:
Sending a report can only be done with an internet connection.