Sierra QMS
What Is Sierra QMS?
Sierra QMS is a highly configurable easy to use Quality Management System (QMS) that helps agile teams with automation capabilities to ease the burdens of regulatory compliance. A QMS is meant to
Read more
be built around your current organizational practices & not the other way around. This is why Sierra QMS integrates with the tools you already use & love! Sierra QMS allows faster innovation allowing you to get to the market faster and cheaper.
Read less
Who Uses Sierra QMS?
Medical Device, Software as a Medical Device (SaMD), Biotech, Pharmaceutical, Digital Health, DTx and Clinical Research companies looking for an agile and efficient approach to quality and compliance.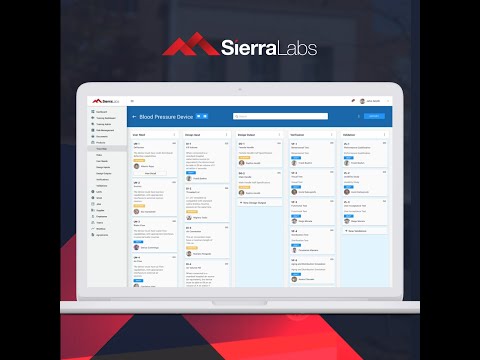 Not sure about Sierra QMS? Compare with a popular alternative
Alternatives to Sierra QMS
Ashoi
Compliance Engineer in US
Computer Software, 11-50 Employees
Used the Software for: 6-12 months
Alternatives Considered:
Highly capable Quality Management System
Pros:
The QMS is very easy to use and navigate. The highly-configurable options allow the QMS administrator to create complex workflows with automation rules to handle the organization's business processes. From an end-user perspective, it's really easy to follow along the workflows when completing change orders or CAPAs.
Cons:
The QMS could use some more robust data querying and reporting features.
Medical Devices, 2-10 Employees
Used the Software for: 6-12 months
Alternatives Considered:
New to QMS
Comments: Great company, excellent expertise and would recommend 100%.
Pros:
We reviewed 7 QMS products and Sierra QMS seemed to be the most intuitive. It also had better functionality for software heavy products for integration to show traceability - many other QMS products don't have this.
Cons:
That the user needs cannot be rearranged and that they are listed in a chronological order.
Computer Software, 11-50 Employees
Used the Software for: Free Trial
Sierra QMS
Pros:
I found the training programs very helpful, made it very simple to setup new training plans and to assign the teams that would be participating, as well as monitor what trainings our teams had finished already.
Cons:
I thought the help section could be improved, would be nice to possible see a list of common questions to improve the initial learning curve of the product.
Health, Wellness & Fitness, 2-10 Employees
Used the Software for: 6-12 months
Alternatives Considered:
Opio QMS review
Comments: It's been a great overall experience with Sierra as we've changed direction a couple times now and they are adaptive and understanding of our needs as we narrow in on our path to market.
Pros:
The software ease of use and intuitive layout made sense.
Cons:
Since we were building our QMS from scratch, perhaps access to other example QMS documents/layouts would be helpful.
Carrie
Quality Assurance Manager in US
Medical Devices, 11-50 Employees
Used the Software for: 1-5 months
Sierra QMS for Startup Medical Device Company
Comments: Sierra is so much more than a document retention system. There is a lot of built in functionality. We can automate the Design Trace Matrix (i.e. DI/DO/DVV), Hazard Trace Matrix, and Tracking of Equipment PM/CAL and input CAPAs, Complaints, Nonconformances, etc. It is great how you can reference items to other items within the QMS.
Pros:
Sierra QMS is Highly configurable. We are able to customize it to our needs. If it is not built in, it can be built. Sierra developed a Risk Analysis module for us so we can track risks for CAPAs, Complaints, non conformances, etc. With their platform, new modules are pretty quick to deploy. You can essentially automate any kind of form that you want. It has more functionality than the competitors. For example, there are built in Modules for Design and Hazard traceability. Imagine no more complicated spreadsheets to maintain!!! I like the Supplier Management module. You can email a link to a supplier and they can populate their supplier evaluation survey within Sierra QMS. I also like the CAPA module as you can customize the electronic forms and workflows. It is very easy to use as an admin and as an average user. It takes very little training for a new user to get started due to the intuitive UI. We found the pricing to be simple and competitive.
Cons:
I wish I could export the raw data from the QMS so I can make ad hoc reports. I hear this is coming soon though. It would be nice if you could collaborate on documents undergoing a change order within the software.