What Is Alemira?
Alemira is an all-in-one digital ecosystem offering an integrated platform for learning, education and science management designed for schools, universities, bootcamps and businesses.
The platform features a Machine Intelligence (MI)-powered learning and authoring platform, data-driven collaborative research and modeling platform, active educational content from scientists and organizational transformation consulting services.
Who Uses Alemira?
Alemira is perfect for companies and enterprises, higher education, schools and bootcamps because we deliver all-in-one complete customisable learning solution and scalable LMS platform.
Where can Alemira be deployed?
Cloud-based
On-premise
---
Languages
English, French, German, Russian
Alemira pricing
Starting Price:
Alemira does not offer a free trial.
get a free trial
Languages
English, French, German, Russian
Alemira videos and images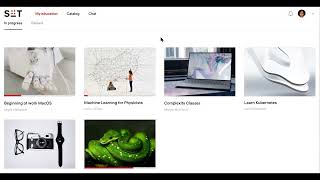 Features of Alemira
API
Accounting Software
Activity Dashboard
Ad hoc Reporting
Admissions Management
Alerts/Notifications
Assessment Management
Asynchronous Learning
Attendance Management
Attendance Tracking Software
Audio/Video Recording
Blended Learning
Built-in Course Authoring
CRM Software
Certification & Licensing
Class Registration Software
Class Scheduling
Classroom Management Software
Code Development
Code Editing
Communication Management
Compliance Tracking
Content Creation
Content Library
Content Management System (CMS) Software
Content Sharing
Contextual Guidance
Course Authoring Software
Course Management
Course Publishing
Course Tracking
Curriculum Management
Customizable Branding
Customizable Questions
Customizable Reports
Customizable Templates
Data Import/Export
Data Modeling
Debugging
Deployment Management
Discipline Management
Document Management Software
E-Verify/I-9 Forms
Electronic Forms
Employee Engagement Software
Employee Handbook
Employee Portal
Enrollments/Onboarding
Enterprise Asset Management
Faculty/Staff Management
Fee Collection
Financial Aid Management
Financial Management Software
For Developers
Forecasting
Forms Management
Fundraising Management
Gamification Software
Gradebook Software
Graphical User Interface
HR Management
Higher Education Software
Housing Management
In-App Training
Integrated Business Operations
Interactive Content
Interactive Learning
Inventory Management Software
Launch Management
Learner Portal
Learning Management
Learning Paths/Tracks
Media Import
Mentorship
Mobile Access
Mobile Learning Software
Multi-Language
Multi-User Collaboration
Multimedia Support
Orientation Workflow Management
Parent Portal
Performance Metrics
PowerPoint Conversion
Progress Reports
Progress Tracking
Quizzes
Records Management Software
Registration Management
Report Cards
Reporting & Statistics
Reporting/Analytics
SCORM Compliance
Self Service Portal
Self Service Tools
Self-Learning
Self-Service Content Curation
Social Learning
Storyboarding
Student Information/Records
Student Management
Student Portal
Supply Chain Management Software
Synchronous Learning
Template Management
Tests/Assessments
Third Party Integrations
Training Administration
Training Management
User Management
User Onboarding
Video Management Software
Workflow Management Software
eCommerce Management
Reviews of Alemira
Reviews by company size (employees)
<50
51-200
201-1,000
>1,001
Siti Kadijah
Information Technology Specialist in Malaysia
Verified LinkedIn User
Financial Services Software, 10,000+ Employees
Used the Software for: 1+ year
Alemira reviews
Comments: Its module and education features is really helping us in shaping and managing our learning courses.
Pros:
Corporate e-learning and training programs benefit significantly from well-designed education management systems. They support different pedagogies. In addition to our programs, we also offer a continuing education program, which has helped us to improve our processes in terms of scheduling, fees, and learning options. The software is developed precisely to meet the requirements of the institution. It works flawlessly. This combination of LMS and Assessment works flawlessly.
Cons:
When something comes to an administrative, the only issue I've encountered so far is the need to configure credentials both inside the system and for individual meetings. Making someone an admin, in my opinion, would make them a moderator by default. We're still figuring out as much as we can and can't do, but so far, so good.
Righter
Head of Acronis in Switzerland
Computer & Network Security, 1,001-5,000 Employees
Used the Software for: 1-5 months
SIT Alemira's Virtual Lab helps us to better train the Acronis global ecosystem
Comments: We use SIT Alemira in two main uses with the Acronis Academy.
1) We've implemented SIT Alemira's LMS system for all of our employees. This has had a great value of learning increase with our employees.
2) We are using SIT Alemira's Virtual Lab infrastructure. This Virtual Lab infrastructure is being used to allow our partners to be able to have hands on training of our Acronis' products and services.
Pros:
Extremely fast integration and a great pricing model
Cons:
New to the market, so we were unsure in the beginning, but it was worth the risk