What Is PDQ Inventory?
PDQ Inventory is a systems management tool that scans Windows computers to collect hardware, software, and Windows configuration data. Create customized collections to identify machines that need software updates — all remotely.
We recommend using these collections along with PDQ Deploy to automate Windows patch management. Our products are designed to work together to automatically deploy updates to the computers that need them.
Who Uses PDQ Inventory?
Sysadmins managing multiple devices, regardless of industry.
Where can PDQ Inventory be deployed?
Cloud-based
On-premise
---
About the vendor
PDQ
Located in Salt Lake City, US
Countries available
Australia, Canada, United States
PDQ Inventory pricing
Starting Price:
US$1,500.00/year
Yes, has free trial
Yes, has free version
PDQ Inventory has a free version and offers a free trial. PDQ Inventory paid version starts at US$1,500.00/year.
Pricing plans
get a free trial
About the vendor
PDQ
Located in Salt Lake City, US
Countries available
Australia, Canada, United States
PDQ Inventory videos and images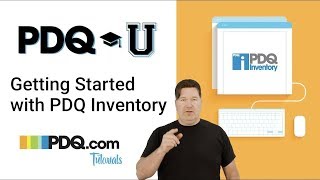 Features of PDQ Inventory
Asset Tracking Software
Compliance Tracking
Inventory Management Software
Reporting/Analytics
Alternatives to PDQ Inventory
Gabe
Director of IT in US
Investment Banking, 201-500 Employees
Used the Software for: 2+ years
Great Product but....
Comments: Overall I love the functionality. I wouldn't change a whole lot other than having access to systems outside of our network
Pros:
We love being able to set custom scans for things like registry values. I can quickly pull reports or scan systems for up-to-date information when I need it.
Cons:
We really need to scan systems that are outside of our network. We deploy about 80% of systems as laptops. During the last year most have been off the network or on a VPN connection for a varied amount of time. Without a client, PDQ has really struggled to meet our needs. I have expressed our struggles to your support team but I did not receive any reassurance that a client is in the works. We will continue to look for a replacement to PDQ until there is a client. I'm hopeful to find something suitable soon if PDQ can not meet the challenges of many machines outside of the network.
Information Services, 11-50 Employees
Used the Software for: 1+ year
Great Inventory program for Windows
Comments: Great it works great and does what I need.
Pros:
Super easy to use, works wonderfully with PDQ Deploy.
Cons:
Windows only, if there was a cross platform component it would be perfect.
Marcus
IT Infrastructure Analyst SR in Brazil
Hospital & Health Care, 5,001-10,000 Employees
Used the Software for: 2+ years
Some features and .NET dependecy
Comments: We use A lot, but we thing that a several GAPs to top tools, like Flexera and Snow.
Pros:
I thing PDQ Inventory is the easyest inventory tool ever.
Cons:
We dont go to lastest version available because the new versions have dependency of higher .NET, and upgrade that just to follow PDQ is not that simple.
Michal
IT Specialist in Czechia
Facilities Services, 51-200 Employees
Used the Software for: 2+ years
An efficient solution for monitoring asset status and reporting.
Pros:
- mostly easy to use - lots of templates to use and edit - provides a wide range of information and details about a specific device - grouping devices into collections according to different combinations of parameters
Cons:
sometimes it is not easy to debug some more complex reports, but this is not directly a defect of the application itself
Government Relations, 51-200 Employees
Used the Software for: 2+ years
PDQ Inventory and Deploy ROCKS!
Comments: I've been using PDQ for about 5-6 years. For us, it's a life saver because until recently I have been the only IT on site. I just hired a admin and he's loving this software as well. Their support is top notch!! When I am stuck, I get a quick answer.
Pros:
I highly like all the details collected for each servers and workstations and the ability to created dynamic collections that can integrate with Deploy.
Cons:
Not that much. The only thing I can think of, ......ugh. Can't think of a thing right now :)
Alternatives Considered: Spiceworks
Reasons for Choosing PDQ Inventory: Cost and ease of use with PDQ
Switched From: Track-It!
Reasons for Switching to PDQ Inventory: Cost and ease of use with PDQ