Software Asset Optimization
What Is Software Asset Optimization?
SAO enables you to visualize and analyze global software inventories and utilization rates across facilities, divisions, departments, and users. With SAO, it's easy to pinpoint underutilized assets
Read more
for better business planning and forecasting. Because we have deep domain expertise in not only HPC but also business analytics and software licensing systems, Altair is uniquely qualified to offer powerful SAO solutions tailored to the unique requirements of each organization.
Read less
Who Uses Software Asset Optimization?
License administrators, engineering managers, and business analysts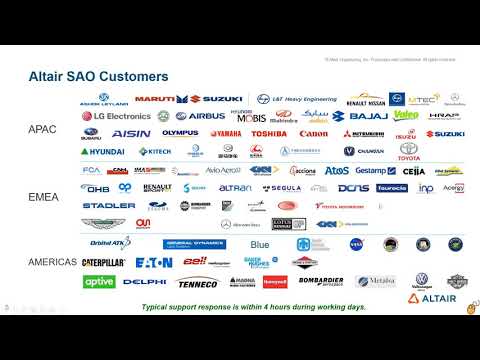 Not sure about Software Asset Optimization? Compare with a popular alternative
Software Asset Optimization
Alternatives to Software Asset Optimization
Reviews of Software Asset Optimization
Reviews by company size (employees)
<50
51-200
201-1,000
>1,001
Rachel
Senior Advanced Software Engineer in US
Airlines/Aviation, 10,000+ Employees
Used the Software for: 2+ years
License reporting tool of my dreams
Comments: The experience was everything we could hope for. It felt like we were partners in making this work and expanding SAO to fill the gaps we found in alternative products.
Pros:
SAO reports on over 15 different license management technologies out of the box, which is critical in getting your reporting environment working efficiently in the shortest amount of time. And the variety of usage reports available allows you to find the best format to analysis and report on your license usage.
Cons:
For disaster recovery purposes some licenses are split across multiple servers and it difficult to combine large of amount of licenses usage into a single report easily.
Calvin
Engineering IT Specialist in US
Military, 5,001-10,000 Employees
Used the Software for: 2+ years
SAO - more than a software usage report
Comments: For our large company it has more than paid for itself in our ability to reduce software purchase where license go unused.
Pros:
SAO most obvious use is for software usage tracking. In addition to license peak usage, I have used the tool to identify list of users, when looking for a subject matter expert I can see who uses the software the most, and what local workstations are using the software. With the real time usage reporting, we have created a web page with "preloaded" inputs to the SAO real-time usage so users can see what users have license checked out and how long they have been using it. Very helpful for software that has chronic issues with reaching max license usage.
Cons:
Only tracks floating license. Nice if it had a node locked tracker. There are some floating license it does not track. I wish it tracked Atlassian products.