What Is Trello?
From sales and marketing to HR and operations, teams can design and customize Trello to fit their unique needs and work styles. And with over 100+ integrations with other key tools like Google Drive, Slack, Jira and more, Trello is a living, breathing project hub of cross-team collaboration no matter where your work needs to happen. Trello brings joy to teamwork by making it transparent and easily shareable across boards and teams.
Who Uses Trello?
Trello is for teams of all sizes, for the creators and doers, and for those who take dreams to done. Trusted by millions, Trello powers teams all around the world.
Where can Trello be deployed?
Cloud-based
On-premise
---
About the vendor
Atlassian
Located in San Francisco, US
Founded in 2013
Trello pricing
Starting Price:
US$6.00/month
Yes, has free trial
Yes, has free version
Trello has a free version and offers a free trial. Trello paid version starts at US$6.00/month.
Pricing plans
get a free trial
About the vendor
Atlassian
Located in San Francisco, US
Founded in 2013
Trello videos and images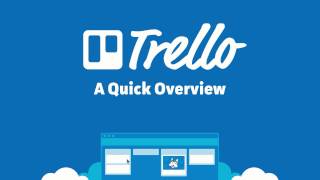 Features of Trello
Access Controls/Permissions
Activity Dashboard
Activity Tracking
Activity/News Feed
Alerts/Notifications
Assignment Management
Backlog Management
Billing & Invoicing
Brainstorming
Budget Management
Business Process Automation
CRM Software
Calendar Management
Campaign Management Software
Campaign Planning
Channel Management Software
Client Portal
Collaboration Tools
Commenting/Notes
Communication Management
Configurable Workflow
Content Management System (CMS) Software
Cost-to-Completion Tracking
Create Subtasks
Customizable Dashboard
Customizable Templates
Dashboard Software
Data Import/Export
Discussions / Forums
Document Storage
Drag & Drop
Electronic Forms
Email Management Software
Email-to-Task Conversion
Employee Management
File Sharing Software
For Creative Agencies
For Small Businesses
Forms Automation Software
Gantt/Timeline View
Goal Management
Goal Setting / Tracking
Graphical Workflow Editor
Guest Access
Idea Management Software
Import Tasks
Innovation Management
Inventory Management Software
KPI Monitoring
Kanban Board
Knowledge Management Software
Live Chat Software
Marketing Automation Software
Marketing Calendar
Media Planning
Meeting Management
Messaging
Milestone Tracking
Mobile Access
Multi-Campaign
No-Code
Notes Management
Order Management Software
Order Tracking
Orientation Workflow Management
Percent-Complete Tracking
Performance Metrics
Polls/Voting
Portfolio Management
Prioritization
Process Modeling & Designing
Product Data Management Software
Product Lifecycle Management Software
Product Roadmapping
Productivity Tools
Progress Tracking
Project Management Software
Project Planning Software
Project Planning/Scheduling
Project Tracking Software
Real Time Editing
Real Time Notifications
Real-Time Chat
Recurring Tasks
Remote Access/Control
Remote Support Software
Reporting & Statistics
Reporting/Analytics
Reporting/Project Tracking
Requirements Management Software
Resource Management Software
Resource Request
Resource Scheduling
Risk Management Software
Roadmapping
Rules-Based Workflow
SSL Security
Search/Filter
Secure Data Storage
Skills Tracking
Sprint Planning
Status Tracking
Strategic Planning Software
Surveys & Feedback
Tagging
Task Editing/Updating
Task Management Software
Task Progress Tracking
Task Scheduling
Task Tagging
Template Management
Third Party Integrations
Time & Expense Tracking
Time Tracking Software
Training Management
Vendor Management Software
Visual Workflow Management
Visualization
Web-based Deployment
Workflow Configuration
Workflow Management Software
Caitlyn
Editor-In-Chief in US
Entertainment, 2-10 Employees
Used the Software for: 1+ year
Great projects managing software for anyone starting out with a small team
Comments: Trello was a great software to get my feet wet, sotospeak, when it came to getting the hang of using a project management software for my business. It definitely helped me to graduate to the next level in my ability to keep my team productive. Even as my team has grown, I have decided to keep the Trello software for the purposes of managing all of my management teams scheduling, tasks, and etc. Because, as I have said throughout this review, I found as my business grew that Trello is made for businesses that are just starting out and need something to help them learn the ropes of project management. Or, they are great for businesses that have a small intimate group of team members. So, overall I would say my experience with using this software to keep my team on time, on task, and on the same page has been a good one.
Pros:
There are a lot of pros when it comes to using this software. It's great for listing projects in order of priority, managing projects, as well as being able to update the workflow and track the progress of each project. It is great for anyone who has a team of at least two or three people.
Cons:
The only issue I really see here is the fact that this software is obviously built for someone who is just starting out, or only has a team of, at most, five people. So, if you are looking for something to help delegate work and keep everyone on the same page for you management team, this is perfect for you. However, if you are planning on managing a large scale personnel operation, I would supplement this software with something else that can help you manage a larger group of people.
Alternatives Considered: Airtable, monday.com, ClickUp, Hive and Asana
Reasons for Switching to Trello: I decided to use Trello, because it looked like the best software to meet my needs and the needs of my team, after I watched a demo.
E-Learning, Self Employed
Used the Software for: 2+ years
The ultimate business tool for mapping projects!
Comments: I have been using Trello for years in many capacities and I find it the most user friendly and beautifully visual software out there for mapping content and projects.
Pros:
The primary reason I use Trello is because it allows me to visualize and categorize and organize all of my ideas, projects and tasks and the workflow to completing them in a way that no list or document can do. Being able to map out my projects, courses and content and see them visually helps me not only lay things out but also helps me work more productively and be able to visualize the steps needed to see progression in a project. I use Trello to really track the progress of all of the ongoing projects I have in my business. I love how I can lay out each project and track the progress by using check lists, moving projects across lists as they're taken through different stages of completion, and as different team members make progress. Creating workflows in Trello has truly been a game changer for me in my business. It allows me to stay organized, know what the next step of each project looks like and be able to easily flow through work without having to sit around and figure out where I left off because Trello gives projects such a visual flow.
Cons:
I do wish that cards could float in between lists and be a bit more movable for if they're in an in between stage. I also wish that you could stack lists instead of lists going only horizontal because sometimes with longer projects with more components I find I need to scroll so far over to the right that I can't compare to other lists further to the left and would love if the screen could work more vertically as well.
Aishwary
Assistant Manager in India
Insurance Software, 51-200 Employees
Used the Software for: 2+ years
Smart Project Management via Trello.
Comments: I have an amazing experience while designing the workspaces, creating boards and onboarding users on the platform.
The sign up process is also very easy.
The features are very beneficial in terms of scheduling and tracking activities.
We can have a number of portfolios created and viewed as cards on the Trello dashboards.
The overall user experience and interface is amazing and is meant for scaling businesses. I have benefitted a lot from using Trello for projects related to Content Marketing, Retail Management, Sales and Retention
Pros:
• Simple and user-friendly onboarding • Having different sections within cards for adding information and comments. • Quick access to cards by using search bar • Drag and drop cards • Convenient for viewing all activities on the board • Email and desktop notifications • Mention in card feature • Integration to other third-party apps • User Last seen stats
Cons:
The export feature is not handy in Trello. It could have been better if a simple export feature could be made available for users to obtain stats such as average resolution time and no. of cards with zero activity.
Alternatives Considered: Teamwork Desk, Asana and Smartsheet
Reasons for Switching to Trello: Trello is simpler and more effective in terms of user onboarding and scheduling/tracking activities. It also provides a variety of beneficial features from the basic plan itself. Also the Trello app on mobile comes handy for quick actions and updates to the cards.
Ansh
Web Developer in India
Verified LinkedIn User
Information Technology & Services, 201-500 Employees
Used the Software for: 1+ year
Best Project Management Tool To Organizes Business Projects into Boards
Comments: Trello is one of the best project management software's and it has integrations for every single application. We can use it for everything, from planning annual budget to organizing our weekly work. It is an online project management application that allows you to create boards, add tasks and subtasks, assign members, and add everyone's due date. Trello is a great tool for our team of people working together on projects both big and small. Our team work on weekly basis on running project and we have divided all task in to our team members. We love this tool and easily handle all projects easily.
Pros:
• Task Management: Trello helps you manage your tasks by allowing you to create boards and lists. You can add cards to your boards and lists, and then move the cards around as needed. This makes it easy to keep track of your tasks and ensure that they are completed. • Public Board Management: Trello allows you to manage public boards, which is helpful if you need to collaborate with others on a project. You can add users to your board and give them permissions to view or edit the board. • Admin and Security Features: Trello has admin and security features that allow you to control who can access your boards and what they can do with them. You can also set up passwords for your boards and restrict access to certain board members. • Unlimited Workspaces: Trello allows you to create unlimited workspaces, which is helpful if you need to manage multiple projects at the same time. You can easily switch between workspaces and view all of your boards in one place. • Unlimited Cards: Trello allows you to create unlimited cards, which is helpful if you need to track a lot of information. You can add details to your cards, including due dates, descriptions, and attachments.
Cons:
• Trello is a great tool for managing tasks and projects. It is simple to use and has many features that make it very versatile. • Integrations with other tools and services make Trello even more powerful and useful. • The public board management feature is great for teams that need to share information with others outside of their organization. • Trello has excellent admin and security features, making it a very secure platform. • The unlimited workspace command runs make it possible to manage an unlimited number of projects in Trello.
Eren
Data Scientist in Germany
Insurance Software, 5,001-10,000 Employees
Used the Software for: 2+ years
Trello - Task management couldn't be simpler!
Comments: With Trello, I can work both synchronously and asynchronously with my project team and always have a transparent view of the status and who is the contact person for which topic. For my own organisation, I keep a separate board with a backlog and prioritisation, because my boring to-do list drove me crazy at some point. It became too confusing due to the many parallel to-dos and re-prioritisations to be able to organise myself efficiently.
Pros:
I have to admit that I found it great in the first place that you can already use a lot in the free version. Besides the Trello boards for projects and teams at work, I even started using it privately. At the beginning, it was more of a To Do list for me, then I developed everything further and further and basically developed boys' boards. It's worth its weight in gold, especially in my project teams. Everyone can see transparently what is currently being worked on, what is still in the backlog, which things should be done this sprint but are still open and what has already been completed. I also love the design. It's appealing and not as dull as Jira, for example. You can also assign several people to a ticket and see directly who is working on what. The coloured categorisation of the tickets also helps to bring in even more structure. It is also great that you can attach files to the tickets.
Cons:
The many features, which are also available in the free version, sometimes make it difficult to see the wood for the trees. For example, there are different board overviews, and it is not always easy to understand how individual functions move or change their view. The customising capabilities in the free version are also very limited.