What Is GuestTracker?
GuestTracker Campground management software helps manage all types of Campgrounds, RV Parks, Lodges & Marinas. Optional features include reservations, website booking engine, point of sale, Quick Books, and credit card processing. Integrations makes Guest Tracker a complete reservation system. Reservation and Accounting features make Guest Tracker the most flexible, complete solution in the industry for 15+ years of Quality Software design. Select Guest Tracker Desktop or Cloud based PMS.
Who Uses GuestTracker?
Guest Tracker campground management software for lodging, RV parks, state parks & campgrounds. Cloud based includes Phone App.
Where can GuestTracker be deployed?
Cloud-based
On-premise
---
About the vendor
TCS Hotel Software
Located in Naples, U.S.
Founded in 1986
GuestTracker support
Phone Support
24/7 (Live rep)
Chat
GuestTracker pricing
Starting Price:
Yes, has free trial
No free version
GuestTracker does not have a free version but does offer a free trial.
Pricing plans
get a free trial
About the vendor
TCS Hotel Software
Located in Naples, U.S.
Founded in 1986
GuestTracker support
Phone Support
24/7 (Live rep)
Chat
GuestTracker videos and images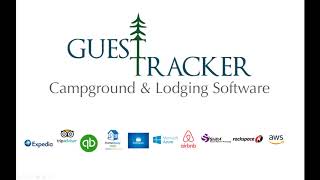 Features of GuestTracker
Billing & Invoicing
Booking Notes
CRM Software
Calendar/Reminder System
Customer Support Software
For Vacation Rentals
Front Desk Management
Group Reservations
Guest Check-in/Check-out
Guest Experience Management
Housekeeping Management
Marketing Automation Software
Online Booking
Online Reservations
Payment Processing Software
Point of Sale (POS)
Rate Management
Reporting & Statistics
Reservations Management
Site Maps
Site Reservation Management
Third Party Integrations
Utility Billing Software
Alternatives to GuestTracker
Hospitality, 2-10 Employees
Used the Software for: 2+ years
We have been using Guest Tracker for many years and it works well for our needs.
Pros:
It is easy to navigate and train. The customer support is great and the manual is precise. The reservation taking process is not complex.
Cons:
I think there are some features that could be better. They recently changed the discount to a percentage versus a dollar amount which was easier to use. I wish that you could merge profiles together easily as there are so many duplicates in my system it is a bit frustrating. Sometimes something could be easy but the system does not allow such as reinstating a reservation you have to go back in and do an entire other one. When you cancel a reservation you can't get back to reinstate it or to reprint the cancellation letter. Sometimes there are glitches in the system and then you can't go back and have to cancel it or check it out and start over again. There isn't to my knowledge a way to search by reservation number. I wish it was easier to search in different reports.
Jessica
General Manager in Canada
Hospitality, 2-10 Employees
Used the Software for: 1-5 months
Easy to use system, majority of the features are well thought out and work well.
Comments: It has allowed us to take a manual paper booking system and update it to a computerized booking software that can be used directly with a booking engine. This allows us better control and time management.
Pros:
I like that it allows for automatic owner statement creation, tape chart functionality and that we can post charges for any billing date, even if that date has already past. This is extremely helpful if a charge was missed being posted or posted incorrect. There is no need to balance over multiple days you can just go in and correct the mistake.
Cons:
The reporting features could be improved: Ex. I would be great to be able to forecast revenue per unit instead of unit type like the history displays. This would be useful to know that we are on track to provide appropriate revenue towards each unit owner. The accompanying guest function would be more helpful it when you insert an accompanying guest it registers as stay and creates a history for future return stays (even if they are not returning with the same primary guest). Having more room for Guest Notes. There is not enough room to create enough notes on the guest profile. This is important so that in the future I know if a guest has experience issues with us and the detail or if they caused issues and the details. etc.
Patrick
Administrator in Canada
Real Estate, 2-10 Employees
Used the Software for: 6-12 months
Guest Tracker
Pros:
For a cloud-based software, it is very fast and responsive. Never had any issues with credit card processing or syncing. The software is solid.
Cons:
The user interface can be a bit difficult to navigate. There are a lot of options and the software cannot be customized to remove unused options. It is difficult to learn at first, but you get used to it eventually. Creating reservations can be confusing.
Angie
Coordinator in U.S.
Used the Software for: 2+ years
I have used Guest Tracker software for over 15 years now with no issues.
Pros:
Coming from a very old, out dated version, the advanced features on the new system are exciting. I adore things like entering the zip & it tells you the city & sending confirmations with 1 click.
Cons:
Again, coming from an older version, the downside was just learning a new system. I was accustomed to all reservation being on one screen. While the new system has future reservations, current guests & past guests are on 3 different screens. Not deal breaker but just a change that took getting used to.
Mike
Vice President and CFO in U.S.
Recreational Facilities & Services, 201-500 Employees
Used the Software for: 2+ years
Excellent support team and representatives work hard to understand our business.
Comments: The ability to manage our accommodation side of the business, including planning and reporting.
Pros:
The ability to report on our business in the manner that we need; the ability to customize certain aspects of the software reporting features. Also, the ability to customize the property is helpful for reservations personnel.
Cons:
There are a few reporting features that we are not able to customize to our operations, however, our operations are significantly different on the billing side than a standard accommodation business.