15 years helping Canadian businesses
choose better software
What Is Kaseya VSA?
Kaseya VSA is an integrated IT systems management platform that can be leveraged seamlessly across IT disciplines to streamline and automate your IT services. Kaseya VSA integrates key management capabilities into a single platform. Kaseya VSA gives your IT Team the ability to automate hundreds of tasks and workflows; manage any device, anywhere, at anytime; and protects every endpoint with enhanced threat detection, automated patch management, and more.
Who Uses Kaseya VSA?
MSPs seeking more revenue & profitability, and IT Departments needing to do more with less use Kaseya VSA to remotely and easily scale and manage less than 100 to more than 50,000 endpoints
Where can Kaseya VSA be deployed?
Cloud-based
On-premise
---
About the vendor
Kaseya
Located in Miami, US
Founded in 2004
Kaseya VSA support
Phone Support
24/7 (Live rep)
Chat
Languages
Dutch, English, French, German
Kaseya VSA pricing
Starting Price:
Yes, has free trial
No free version
Kaseya VSA does not have a free version but does offer a free trial.
get a free trial
About the vendor
Kaseya
Located in Miami, US
Founded in 2004
Kaseya VSA support
Phone Support
24/7 (Live rep)
Chat
Languages
Dutch, English, French, German
Kaseya VSA videos and images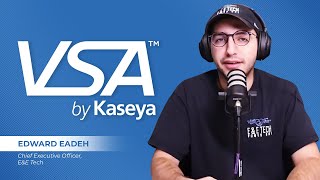 Features of Kaseya VSA
Access Controls/Permissions
Activity Dashboard
Activity Tracking
Alerts/Escalation
Alerts/Notifications
Asset Tracking Software
Audit Management
Automatic Patch Deployment
Automatic Scans
Backup and Recovery
Bandwidth Monitoring
Baseline Manager
CPU Monitoring
Change Management Software
Chat/Messaging
Collaboration Tools
Compliance Management
Compliance Tracking
Configuration Management
Customization
Dashboard Software
Data Visualization Software
Deployment Management
Diagnostic Tools
Event Logs
File Sharing Software
File Transfer
For MSPs
IP Address Monitoring
IT Asset Management Software
IT Asset Tracking
IT Reporting
IT, Server & Network Monitoring Software
Incident Management Software
Internet Usage Monitoring
Inventory Management Software
Issue Auditing
Issue Management
Live Chat Software
Maintenance Scheduling
Mobile Access
Multiple Monitor Access
Network Monitoring Software
Network Wide Management
Patch Management Software
Performance Metrics
Policy Management Software
Problem Management
Real Time Monitoring
Real Time Notifications
Real Time Reporting
Real Time Updates
Real-Time Chat
Real-time Alerts
Remediation Management
Remote Access/Control
Remote Monitoring & Management
Remote Support Software
Remote Update/Installation
Reporting & Statistics
Reporting/Analytics
Scheduling Software
Screen Recording Software
Screen Sharing Software
Self Service Portal
Service Level Agreement (SLA) Management
Session Recording
Simple Network Management Protocol (SNMP)
Status Tracking
Support Ticket Management
Task Management Software
Third Party Integrations
Threshold Alerts
Troubleshooting
Unattended Access
Uptime Reporting
Vulnerability Scanning
Workflow Management Software
Alternatives to Kaseya VSA
Kavindu Githsara
System Specialist in Sri Lanka
Verified LinkedIn User
E-Learning, 11–50 Employees
Used the Software for: 1+ year
Reviewer Source
Comprehensive IT Management with Robust Security Features
Comments: Overall, Kaseya VSA is a powerful and comprehensive IT management tool with a range of features that can help streamline IT operations and improve security. While it may be complex and costly for some organizations, it can be a worthwhile investment for those in need of robust IT management capabilities.
Pros:
One of the major strengths of Kaseya VSA is its remote management capabilities. The software allows us to remotely manage devices and endpoints from a single, centralized console, which saves time and effort. It also offers automation features, such as automated patch management, which helps keep our devices secure and up-to-date without manual intervention.Another key advantage of Kaseya VSA is its security features. The software includes a range of security tools, such as antivirus and anti-malware protection, as well as vulnerability scanning and remediation capabilities. These tools help us to maintain a secure IT environment and protect our company data from potential threats.
Cons:
However, there are some downsides to Kaseya VSA. The software can be complex and difficult to use, particularly for those who are not familiar with IT management tools. It can take time to learn how to navigate the software and configure it to meet our specific needs.
Verified Reviewer
Verified LinkedIn User
Information Technology & Services, 1,001–5,000 Employees
Used the Software for: 2+ years
Reviewer Source
Solid RMM
Pros:
Kaseya just scaled up on my number of end points without any issue over the years. It is stable and I hardly face any issue with the agent stability as I have bad experience other RMM that keep needing reinstallation of agent and etc. Kaseya also offers a huge range of solutions ranging from DRaaS, Network Monitoring, Ticketing and security to choose from that integrates nicely inside the RMM.
Cons:
Nothing much except the price is a bit steep but I guess you have to pay for solid software.
Information Technology & Services, 2–10 Employees
Used the Software for: 2+ years
Reviewer Source
Solid Solution
Pros:
Powerful remote monitoring and management capabilitiesWide range of featuresCloud-based deploymentScalable to meet the needs of businesses of all sizesEasy to use interfaceGood customer support
Cons:
Complex solutionCan be expensiveSome features are not as reliable as othersUpdates can sometimes be disruptive
Alexander
Project Manager in US
Real Estate, 1,001–5,000 Employees
Used the Software for: 2+ years
Reviewer Source
A powerful engine marred by lazy, ongoing GUI problems
Comments: We took on Kaseya largely for remote control of clients and Windows/Office patching. We quickly made use of its Agent Procedures and reports modules and then continued on, slowly integrating module after module.
Pros:
Many powerful modules: - I would not even consider Windows patching without Kaseya: it is granular, easy to use, pretty complete - Agent Procedures and Policies allow enormous customization in what you can do - practically any script you can think of can potentially be run through here - LiveConnect is smooth and fast and provides a wealth of tools - Reports, Alerts, and Audit modules are clear (once understood) and provide tremendous detail and customization
Cons:
Persistent, unfixed, obvious GUI issues spanning years and years after being reported: - screens not refreshing; - inconsistent filtering; - misleading word choices in scheduling boxes; - selecting multiple is a chore; - "View" is powerful to *use* but clumsy and unwieldy to *manage/administer* The way installation packages are created is terrible. If you have more than about a dozen OUs, you will see what I mean: you must create a new install package for each OU. We have 90. EVERY ONE OF THEM must be updated every time there is a new Kaseya client release (about four times a year). There should be one package that asks the user its OU based on a database that IT sets up. Kaseya Anti-Virus and Kaseya Anti-Malware (which we used to use) frought with problems, in accurately reporting what was out there & in reliably installing or uininstalling packages. KAM in particular was so broken it caused us to dump the entire thing and switch to Webroot (though the Webroot integration module is a bad joke: it looks like an alpha product, nowhere near beta). Patch rollback is difficult and usually impossible (though this may not be Kaseya's fault).
Michael
IT Operations Manager in US
Information Technology & Services, 11–50 Employees
Used the Software for: 2+ years
Reviewer Source
Kaseya VSA is easy to use and learn
Comments: I have used Screen Connect, Teamview, logmein before coming here with Kaseya and kaseya by far the best.
Pros:
Kaseya has been a staple at our msp for years. It was easy to deploy, easy to update and just simple for new techs to get the hang of. It has all the features we need to support our clients remotely without a problem
Cons:
Nothing I don't like at this time, everything is working as advertised and kaseya has been updating regularly. VSAX has been delayed but that is ok!